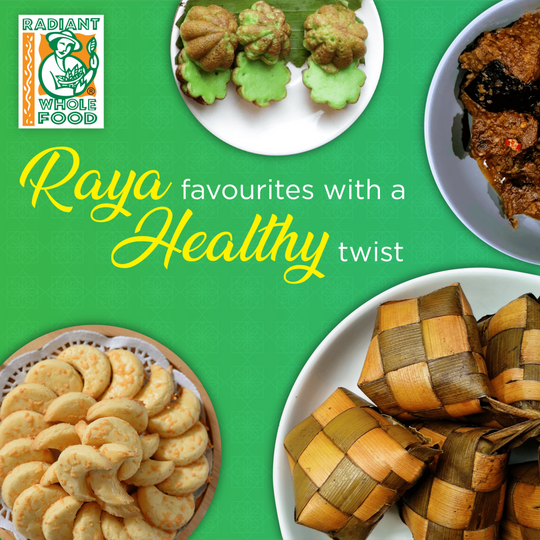 Festivals and holiday seasons are a great time to enjoy tasty food with family and friends. Hari Raya celebrations are starting soon, and many are already picturing the array of delicious dishes to eat – but don't forget to take it easy!
Scroll down for recipes!
After a month of fasting, your stomach needs to get accustomed back to the normal eating schedule, so don't shock your digestive system with a sudden stuffing of heavy food.

Apart from being mindful on how much you should eat, take care of what you fill your plate with too. Cooking this Raya? Celebrate the Festive season with traditional dishes given a fresh, modern and healthier twist.
Here are some tips to help you with Hari Raya cooking!

Upgrade your cooking by making healthy substitutions without compromising on taste.
Cut the fat but not the flavour with a simple rendang recipe that uses lean chicken and low-fat yoghurt.
Serve dishes such as rendang and lontong with wholegrains by replacing white rice with brown rice.
Serve drinks with healthier versions (especially on sweetness!) or whip up a beverage that's good for digestion.
Switch up your Sirap Bandung by replacing evaporated milk, which is high in saturated fat, with low-fat milk.
Skip the white sugar and go for brown, honey, molasses sugar instead (but please practice moderation).
Ginger is great for stomach bloating and digestive relief – add them to drink recipes!
It's not Raya without the assortment of kuih and biscuit offerings. Give your bakes a healthier twist by swapping out some ingredients with healthier options.
Use unbleached flour or whole wheat flour
Avoid artificial flavourings
Choose natural sweeteners in place of refined white sugars
Looking for some healthier twist on festive dishes? Check out these recipes!