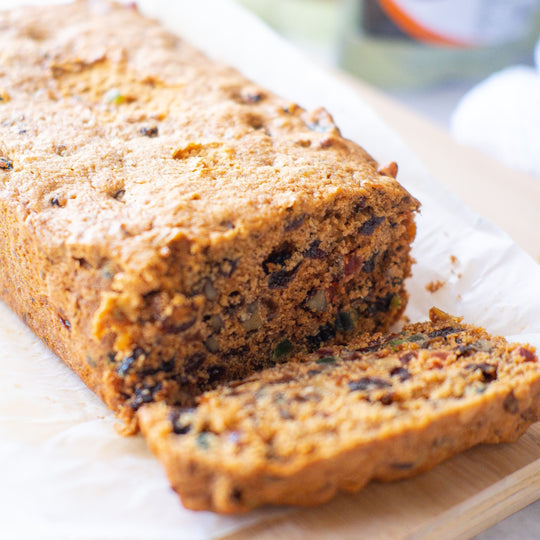 A cake for all seasons - this is the beauty of the classic Fruitcake which is loved by many. You won't go wrong serving this delectable dessert on the table during Raya feasting!
This holiday, upgrade your baking with healthier choices so you can still enjoy your desserts without the guilt.
Special thanks to AisyaJ for sharing this wonderful recipe and beautiful pictures!
Vegan Fruitcake by https://www.instagram.com/aisyajway/
 

INGREDIENTS


INSTRUCTIONS
Preheat your oven to 170 Celsius
To make buttermilk, mix soymilk and 1 tbsp of apple cider vinegar and set aside to let it curdle.
In a mixing bowl, sift flour, baking soda, cinnamon and nutmeg. Mix well.
Add the walnuts, dried fruits and raisins to the flour mixture. And set aside
In another bowl, cream the butter and sugar together until most of the sugar dissolves and butter is at a lighter color.
Add the buttermilk and mix well.
Lastly, add the dry ingredients (flour mixture + fruits). Mix them well using the folding technique to avoid overmix.
Line your pan with baking paper and pour the batter.
Bake it in the oven for 60-70 minutes. I covered the top with aluminum foil half way to avoid burnt top.
You can tell that the cake is done when the cake is golden brown and toothpick come out clean when you inserted in the center of the cake.
Cool on a cooling rack for 10 minutes before removing it from the pan.
Best served the next day.
Tried this (or any) of our featured recipes? Tag @radiantwholefood.organic on
Instagram
---