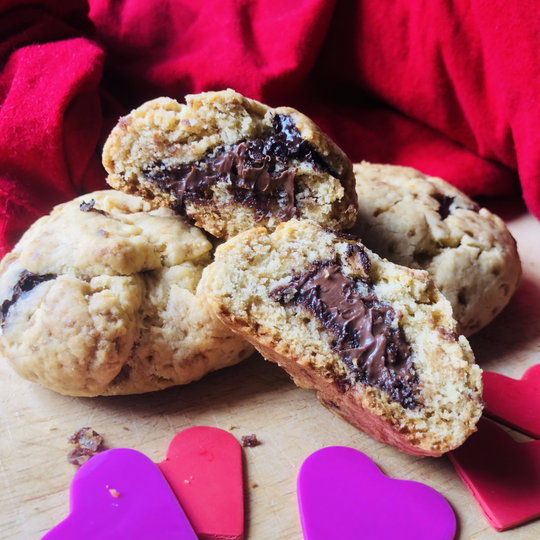 Thick and chewy chocolate cookies filled with gooey pockets of homemade chocolate hazelnut spread - what's not to love?
VALENTINE SWEET TOOTH (COOKIES)
(8 pcs per serving)

INGREDIENTS :
(A):
56-gram Cake & pastry flour
50-gram Unbleached Plain flour
2-gram Baking Powder
2-gram Baking Soda
2-gram Sea salt
(B):
70-gram Unsalted butter (room temperature)
50-gram Molasses sugar
1 Egg
2 drops of Vanilla essence
70-gram Dark Chocolate chips
Homemade hazelnut chocolate spread (Recipe here!)

INSTRUCTIONS :
Sift ingredient A in a medium mixing bowl.
Beat butter and molasses sugar until light and creamy. (around 5min) Add in eggs and yolk, one at a time, follow by vanilla essence (stirring well after each addition).
Add in the ingredient A and chocolate chips gradually stir the mixing flour until well combined.
The dough is ready! Divide the dough into 8 pcs (40g per pcs) and rolled it into round shape.
Flatten dough slightly into disc shapes with your palms. Add in homemade hazelnut spread in the middle and roll it up.
Pre heat oven for 180 degree for 10mins
Oven baked for 170 degree for 15mins or until golden brown!
Let it cool down at least 5 mins and ready to serve.
(Cookies can be store in an airtight container for up to 3days)
Tried this (or any) of our featured recipes? Tag @radiantwholefood.organic on
Instagram
---