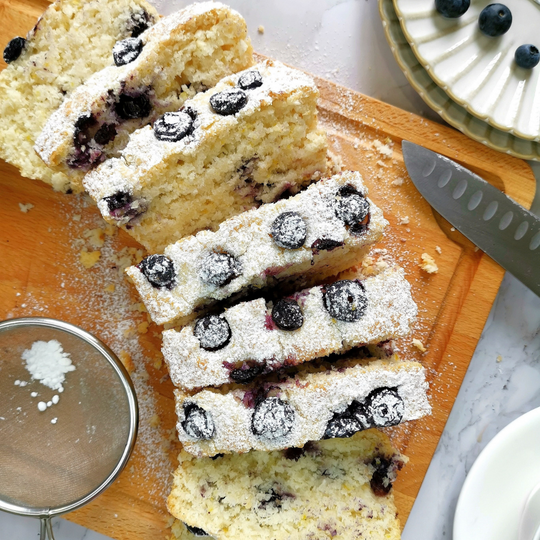 A loaf cake is made in a bread loaf pan, as its name implies. Also known as a quick bread, these cakes can incorporate a wide variety of ingredients, such as fruit and nuts.
In this recipe, we've incorporated Lemon and Blueberries for a delectable sweet and tart flavour combination!
LEMON BLUEBERRY LOAF
[10 Servings]

INGREDIENTS:
(A)
2 cups (250g) Plain flour
½ cup (75g) Unsweetened shredded coconut (Optional)
2 tsp Baking powder
¾ tsp Baking soda
½ tsp Salt

(B)
¾ cup (180ml) Unsweetened milk of choice*
¼ cup (60ml) Lemon juice
*Use 100ml milk if you choose not to use shredded coconut

(C)
¾ cup (120g) Sugar
½ cup (120ml) Refined coconut oil
Zest of 2 lemons

(D)
1 cup (130g) Fresh blueberries

(E) For Dusting
Icing sugar / powdered sugar

INSTRUCTIONS:
Preheat the oven to 375F/190C. Line a loaf pan (8" x 4") with parchment paper and set aside.
Stir (B) well and set aside for 5 minutes. It will thicken slightly and ready to use.
To a large bowl, mix (A) well.
Stir (B) and (C) together until thick and gloopy.
Pour the wet mixture into the dry mixture. Fold them together with a spatula. Be gentle, but work quite quickly.
Fold the fresh blueberries (D) into the mix as soon as you can no longer see any dry flour.
Pour the batter into the loaf pan, smooth out the top and sprinkle over a few extra blueberries.
Bake for 50 – 55 minutes until a toothpick inserted in the center comes out clean.
Gently remove the parchment paper and leave the loaf on the rack until completely cool.
Dust with icing sugar (E) before serving.
Tried this (or any) of our featured recipes? Tag @radiantwholefood.organic on
Instagram
---