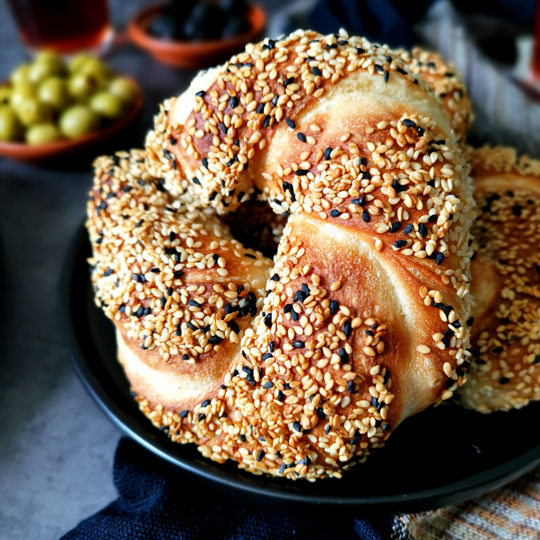 Simit breads - a popular Turkish street food, are sesame bread rings, which look similar to bagels. They are sold on every street corner in Turkey and are popular for breakfast or as a snack!

Enjoy them plain, or for breakfast with tea, fruit preserves, cheese or eggs. It's common to tear off pieces and dip them in cream cheese. For a royal-like twist, have them with feta cheese and slices of olives! Yum~
HOMEMADE TURKISH SIMIT
[8 servings]


INGREDIENTS:
FOR MAKING SIMIT:
500g Bread flour
300g Water
1 tsp Yeast
1 tsp Salt

FOR DIPPING SIMIT:
1 cup Molasses sugar
6 tbsp Water

FOR SESAME COATING:
250g White or brown sesame
50g Black sesame

INSTRUCTIONS:
MOLASSES MIXTURE: In a saucepan, cook molasses sugar and water over medium heat until syrup is slightly thickened. Set aside to cool. It will thicken more as it cools.
SIMIT: Use bread machine to mix bread ingredients and knead for 20 minutes.
Power off bread machine and leave dough to rise in it for an hour or until it has doubled in size.
On a working surface, punch dough down to remove any air bubbles. Divide into 16 pieces and shape into balls.
Roll out 2 pieces into 28-30cm long tubes, lay parallel, roll tubes in opposite direction to make a twist. Join both ends together to form a ring. Repeat step 5 with the remainder.
Dip a ring in molasses mixture then in sesame seeds and place on a baking sheet lined with parchment paper. Repeat step 6 with the remainder.
Cover loosely with tea towel and let it rise for another 40 minutes.
Preheat oven to 200C. Spray some water in oven. Bake simit for 15-17 minutes. Serve warm!
Tried this (or any) of our featured recipes? Tag @radiantwholefood.organic on
Instagram
---