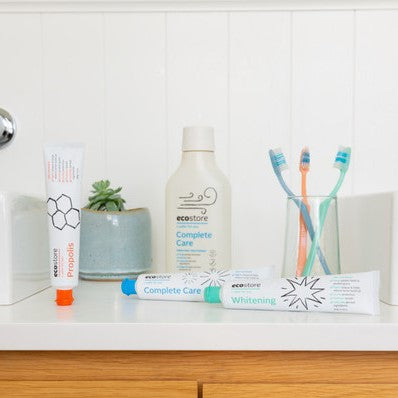 Achieving healthy teeth and gums takes a lifetime of care. It's crucial to take the right steps every day to take care of them and prevent problems – bad oral health can even affect your overall health!
So what do we do? This involves getting the right oral care products, as well as being mindful of your daily habits.
Tips to be mindful of:
Good oral hygiene is necessary to keep teeth and gums healthy. It involves habits such as brushing twice a day and having regular dental checkups.
Brush regularly but not aggressively
Floss once a day
See a dentist regularly
Avoid smoking/using tobacco
Complement your brushing and flossing with a mouthwash
Limit sugary foods and starches
Reduce sugary/acidic drinks and opt for water instead
It's not just what you eat and drink or daily habits that can damage your oral hygiene, the products you use matter too. Keep your oral health – and the planet too! – With natural and safer products.
"Your mouth is one of the most absorbent parts of your body, do you have confidence that the toothpaste you're putting into your mouth daily, only contains ingredients that are safe for not just your mouth, but the rest of the body as well?"
With ecostore's Oral Care range, it uses safer, naturally derived ingredients and the toothbrush is made from plant plastic, ensuring they are safer for you and the world. Launched in 2018, ecostore's toothpaste and mouthwash uses Magnolia Bark Extract and Kanuka Oil, to help reduce plaque, prevent tartar build-up, fight cavities and protect against germs that cause bad breath. Natural essential oils including peppermint, spearmint, menthol and clove-leaf are used as an alternative to synthetic flavours to provide a long-lasting freshness.
Free from SLS, triclosan, fluoride and parabens; ecostore's oral care range has been tested by  independent laboratories on the products to demonstrate the toothpaste and mouthwash's effectiveness in reducing the four main bacteria found in the mouth, which are associated with causing cavities, decay and gum disease. The toothpaste was also shown to be effective in reducing the build-up of plaque on teeth.
Find out more about the range here and more details about their ingredient list.
Tried and tested! See what fellow Malaysians have to say about ecostore's oral care range~
Credit Image: https://www.arisachow.com/2018/11/natural-smiles-with-ecostore.html
"I'm currently using their Whitening toothpaste and soft toothbrush which is perfect for my sensitive gums. It keeps my teeth, gums and mouth feeling clean and fresh throughout the day" – ArisaChow
Read about her review here!
Credit Image: https://www.bettyjourney.com/2018/11/ecostore-oral-care-range-new-launch.html
"My first impression was the toothpaste is less strong than regular toothpaste but still leave my mouth feeling minty fresh. But in terms of usage, it works better than other toothpaste as it 100% plant-based ingredients" - Betty
Read about her review here!
***
Practicing good dental care from infancy to adulthood can help a person keep their teeth and gums healthy. Brushing and flossing daily, avoiding bad habits, eating a healthful diet, and having regular dental checkups can help people avoid cavities, gum disease, and other dental issues. A healthy smile benefits your overall health too!