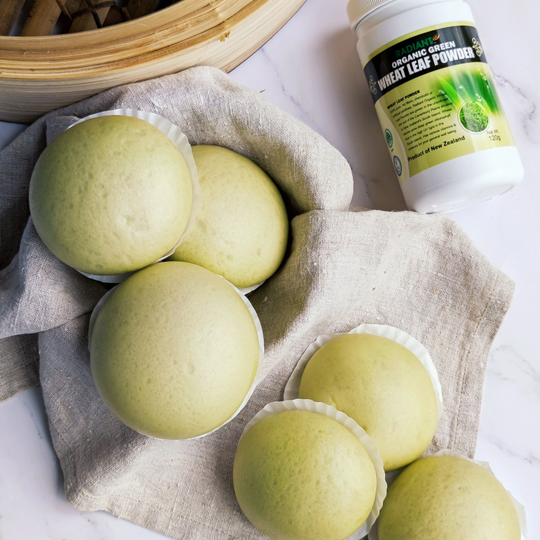 Mantou - or steamed buns are great to have anytime of the day, especially breakfast. In this recipe, we've perked it up with the goodness of 🍃 wheat leaf powder. Serve them warm and split them in half to fill with your favourite choice of meat, floss, egg. Dip them or even have them plain!
INGREDIENTS:
[8 servings]

ACTIVE DRY YEAST:
2.5g Active dry yeast
1 tsp Sugar
50g Lukewarm water

DOUGH:
250g Plain flour
40g Sugar
1 tbsp Wheat leaf powder
8g Grapeseed oil
75g Cold water


INSTRUCTIONS:
Stir active dry yeast and sugar in lukewarm water, set aside for 5 - 10 minutes. Once froth forms on top, it is ready to use.
Add in wheat leaf powder, grapeseed oil and cold water to activated yeast, mix well. 
In a mixing bowl with plain flour and sugar, add in yeast mixture, mix into dough. 
Knead dough until smooth surface about 10 - 15 minutes. 
Divide dough into 8 equal portions. Cover with plastic wrap. 
Knead dough a few times to deflate any air bubbles. Pull and tuck dough with smooth surface on top and seams are at the bottom. 
Roll dough into a SMOOTH round ball in between palms.
Cup dough with both palms and move in a circular motion to shape it taller. Place on a piece of parchment paper. Repeat STEP 6 – 8 with the remainder. 
Cover shaped buns and proof until they puff up 50% to double in size. This may take about 30 minutes. 
Bring water in steamer to a boil, place proofed buns in steamer with 1-inch space in between. Steam on medium heat for 12 minutes.
Turn off heat. DO NOT OPEN LID IMMEDIATELY! Let buns sit in steamer for 5 minutes. Serve hot!
Tried this (or any) of our featured recipes? Tag @radiantwholefood.organic on
Instagram
---