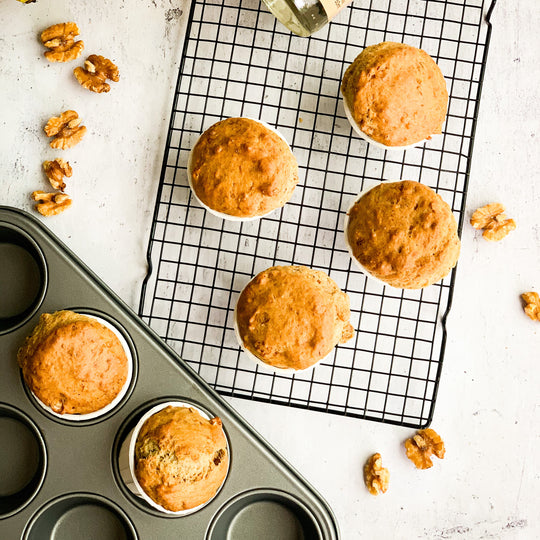 Craving for a snack? Or maybe even a quick breakfast? Grab a muffin! This versatile and nutritious munch is great for anytime of the day and occasion~
Substitute healthy ingredients and butter free muffin is the best choice for you and your family! 
Special thanks to Janet The Culinary Soprano for sharing this wonderful recipe and beautiful pictures!
Ingredients :
40g crushed walnut
2 or 3 ripe bananas
5 1/2 Tbsp PureHarvest Organic coconut milk
5 Tbsp Coconut oil
230g Spelt flour
60g Radiant Organic brown sugar / coconut sugar
1 tsp Radiant organic bicarbonate soda
1/2 tsp Radiant organic baking powder
Pinch of ground cinnamon powder
1/2 tsp vanilla essence

Steps:
1 .Mix all the dry ingredients together in a big bowl - put aside.
2. Mix all the wet ingredients together until it's well incorporated - set aside .
3. Pour all the wet ingredients into the dry ingredients - mix well.
4. Pour the batter into the muffins cups
5. Bake in a preheated oven for 180c in about 25-30 mins.
Tried this (or any) of our featured recipes? Tag @radiantwholefood.organic on
Instagram
---