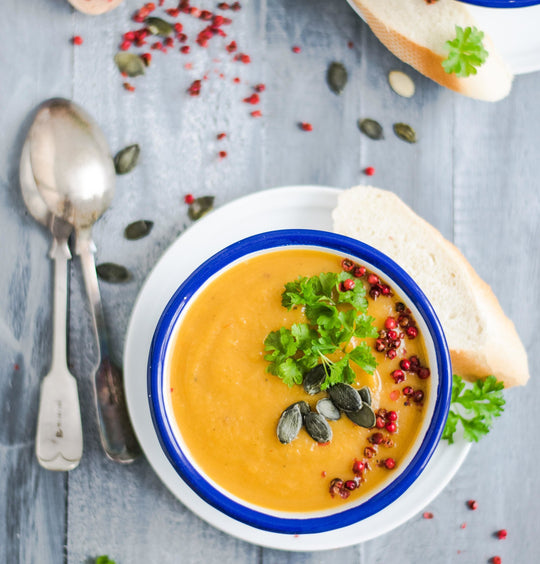 Healthy and tasty soup for a warm and comforting meal. Try out our recipe suggestions below!
Creamy Red lentil Soup
1 cup red lentil
1 carrot    ( cubed)
1 red onion  (cubed)
2-3 cups water
2-3 sprigs chinese parsley, chopped1 tsp vegetable broth
a pinch of salt
pepper to taste
2 tbsp extra virgin coconut oil, cold –press                             
Wash and drain red lentil. Boil lentil with vegetables until soft.
Blend till creamy and bring to boil again.
Season with vegetable broth, parsley, salt, pepper and coconut oil.

You may use yellow split pea to make the same bean soup or a mixture of equal  quantity of red lentil and yellow split pea.
It is naturally sweet in taste and delicious!
Red Lentil & Vegetable soup
1 cup red Lentil or yellow split peas. 
1 carrot, diced,
1 red onion ,diced
1 stalk celery, diced
1 tomato, diced
2-3 sprigs Chinese parslye
3-4 cups water
2 tbsp coconut oil or e/v olive oil.
A dash of  tamari or Liquid aminos to taste and pepper
Boil red lentil with water for 15 mins and later add in all vegetables.
Boil for another 20 mins and season. Serve while hot.

Pumpkin Soup

3 cups pumpkin                                                                                                   
1 carrot
1 onion                                                                                                               
1 potato                                                                                                    
4 cups water                                                                                                       
2 tbsp e/v coconut oil
1 tsp vegetable broth pinch of salt

Diced all vegetable and boil in water for 10 minutes till soft.Blend till well pureed.
Bring back to boil and simmer for another 15 minutes.
Add vegetable broth,salt and coconut oil.
Ready to serve piping hot.


  
                
                       Lentil Soup                                                        Pumpkin Soup
---