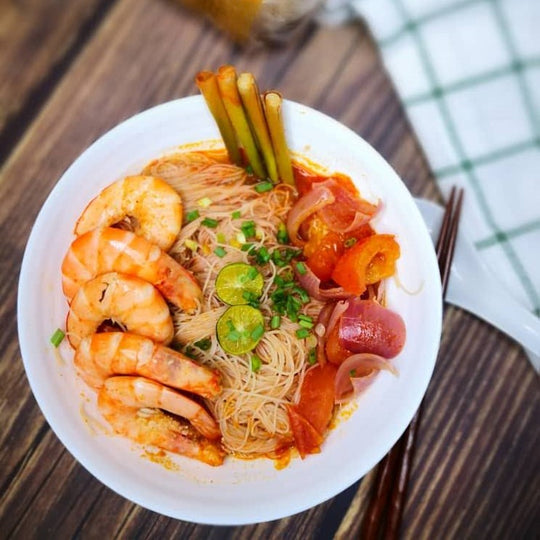 TOM YUM MEEHOON SOUP
Serves 4



INGREDIENTS:
300g prawns, keep shells or remove & deveined
800ml reduced-salt vegetable stock
8 kaffir lime leaves, bruised
4 stalks crushed lemongrass
2 pieces red chillies, seeded and sliced
4-5 slices fresh galangal
400g straw or fresh oyster mushrooms, drained and halved
1/2 small tomato, cut into wedges
1/2 tbsp fish sauce or to taste
1 1/2 tbsp Thai roasted chili/tom yum paste
Coriander and lime wedge, to garnish


INSTRUCTIONS:
1. In a medium pot, bring to a boil vegetable stock, lime leaves, lemongrass, chillies and galangal. Once boiling, simmer for 15 minutes.
2. Throw in tomatoes, prawns and mushrooms. Then add fish sauce.
3. Simmer further for 5 minutes until well done.
4. Garnish with coriander and lime wedge. Serve hot on its own, or with noodle of choice.

*Prefer the creamy version? Add in coconut milk.
Tried this (or any) of our featured recipes? Tag @radiantwholefood.organic on
Instagram
---