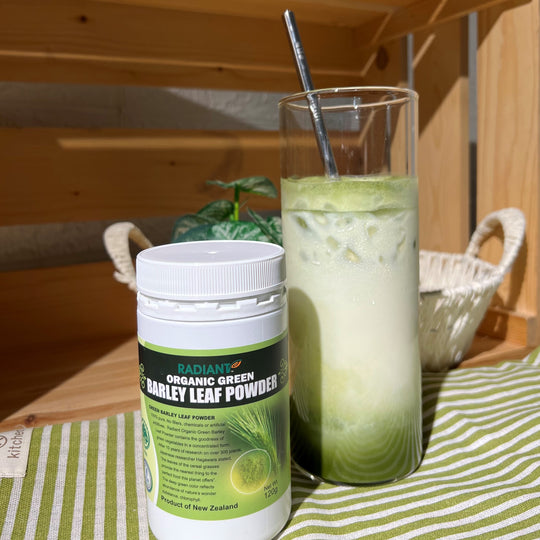 Boost your day with SuperGreen Latte: Super Greens are nutritional powerhouses!
Adding super green powder to your diet will go a long way in improving your health. Apart from helping you attain your daily recommended intake of vitamins and minerals, these powders have other immense advantages.
Healthier immune system
Natural energy boost
Great source of phytonutrients
Helps detox and rejuvenate
Cooking Method: Blending (Ice blended) or Mixing (Warm/Cold)
Servings: 1 pax
Preparation Time: 15 minutes
Ingredients: 
1 tbsp Barley Leaf Powder
1 tbsp Maple Syrup
175ml Full Cream Milk or any milk of choice (use more for milkier taste)
Ice cubes (for cold serving)
3 tbsp Warm water (for warm/cold serving)
Instructions (Ice blended):
Blend all the ingredients together until smooth.
May add in milk gradually for milkier taste (optional).
Serve cold and enjoy!
Instructions (Warm/Cold):
Whisk the barley leaf with warm water until even in a serving glass.
Then, add in maple syrup and pre-heated milk and mix. Serve warm.
Add in ice cubes for a cold serving!
---