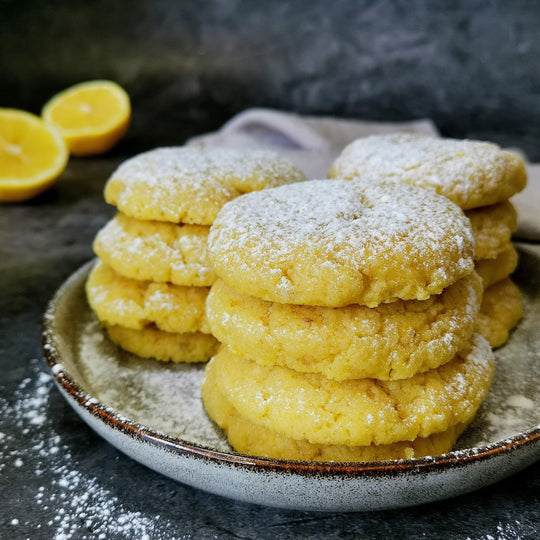 On a 🌱 plant-based diet and craving for some dessert bites?
What about some tangy, light and refreshing 🍋 lemon 🍪 cookies that's also packed with beneficial goodness~
Soft & Chewy Vegan Lemon Cookies
(12 servings)
INGREDIENTS:
(A) 1 Flax egg (See instruction below)
(B)
2 cups Plain flour
2 tsp Cornstarch
1 tsp Baking soda
(C)
½ cup + 2 tbsp Sugar
¼ cup + 2 tbsp Refined coconut oil
⅓ cup Unsweetened oat milk
2 tbsp Lemon juice
2 tbsp *Carrot juice
Zest of 2 lemons
 

INSTRUCTIONS:
Preheat the oven to 375F/190C and line baking pan with parchment paper.

To make a flax egg (A), mix 1 tbsp flaxseed meal (ground flaxseed) with 3 tbsp water, set aside for 10 minutes.
In a bowl, mix (B) well.

In another bowl, mix (A) and (C) well.

Pour the wet mixture into the dry mixture. Mix until thoroughly combined.
Form 12 equal size of dough by using ¼ measuring cup or by hands, roll into balls, and flatten dough balls slightly on baking pan, spaced about 2 inches apart.
Bake for about 10 minutes or until edges have just set and tops are just set. Do not overbake. Cookies will firm up as they cool.

Let cookies cool for about 5 minutes on baking pan, and then transfer them on a wire rack to cool completely.
 
NOTES:
*Carrot juice is totally optional. It serves as natural food colouring and gives cookies a light yellow colour.
Keep cookies in an airtight container should last for up to a week or in freezer for up to 3 months.
---