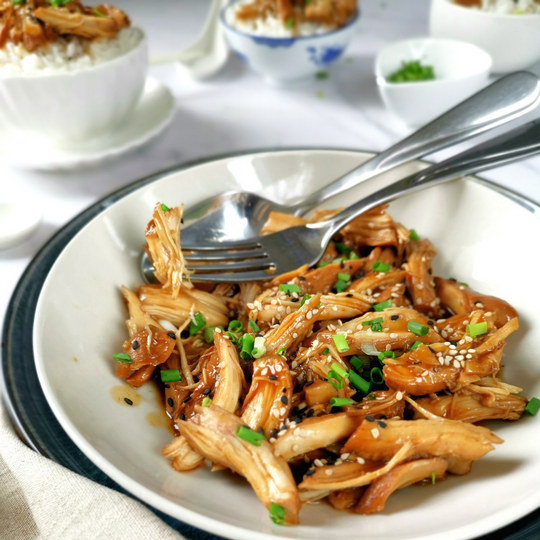 Got a craving for some Japanese food? Check out this healthy and flavourful chicken teriyaki - SO SIMPLE and EASY to prepare!
SLOW COOKER CHICKEN TERIYAKI
 
[3 servings]
 

INGREDIENTS:
 
450g Chicken breasts
2 cloves Garlic (minced)
1 tbsp  Cornstarch
¼ cup + 2 tbsp Brown sugar
¼ cup Soy sauce
2 tbsp Apple cider vinegar
1 tsp Ground ginger
⅛ tsp Ground black pepper
Sliced green onion and sesame seeds for garnish

 
INSTRUCTIONS:
 
Place chicken breasts and 3 tbsp of water in a slow cooker, set cooker heat to LOW.
In a mixing bowl, add 3 tbsp of water with all other ingredients, mix well.
Pour sauce over chicken, cover and cook for 3 hours. Then turn cooker heat to HIGH and cook for another 40 minutes - 1 hour.
Use fork to shred chicken and stir to coat with sauce. Garnish with sliced green onion and sesame seeds, Enjoy!
Tried this (or any) of our featured recipes? Tag @radiantwholefood.organic on
Instagram
---