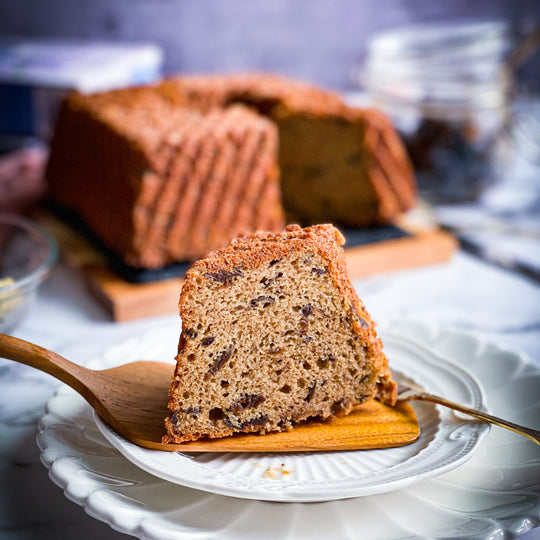 Festive celebrations is around the corner, spice up your season with some delectable prune cake!
This holiday, upgrade your baking with healthier choices so you can still enjoy your desserts without the guilt.

Quick fact : Prunes have a low glycemic index, which can help maintain blood sugar levels.
Special thanks to Janet The Culinary Soprano for sharing this wonderful recipe and beautiful pictures!
Mum's signature prunes cake
*recipe contains alcohol
 
Ingredients
(A)
500g pitted prunes to be soaked in
1/2 cup of rum
1/4 cup of Brandy
(For a week before baking)
*can be omitted
 
(B)
10 Ozs flour
1tsp Radiant baking powder
1tsp Radiant baking soda
12 Ozs butter
4 Ozs Radiant Brown sugar
3 Ozs fresh milk/ orange juice
7 medium egg yolk
Pinch of salt
1Tbsp vanilla essence / rum
 
(C)
7 egg white beat with 3 ozs brown sugar until stiff
 
Method:
Beat butter, brown sugar and-inch of salt until light and creamy.
Add egg yolk one at a time, slowly pour in fresh milk / orange juice and beat until smooth then add in 1 Tbsp vanilla essence or rum or Whisky. Finally add in prune and mix well.
Fold in ingredients (C) into mixture (2), then add flour slowly and a little at a time.
Bake in a 10" mould at 180C for 45 mins.
Get your prunes here!
Radiant Organic Pitted Prune is sun-dried, without the use of sulphur or anything artificial, just the way nature intended which made it naturally dark brown in color. They are naturally delectable without any added sugar -- perfect as a healthy snack!

Radiant Organic Prunes or dried plums aren't just for those digestive tracts are feeling a little backed up. These nutrient-rich fruits also provide a number of other potential health benefits due to the nutrients they contain, possibly lowering your risk for heart disease, osteoporosis, Type 2 diabetes and obesity.

Good source of fiber, carbohydrates and minerals.
---