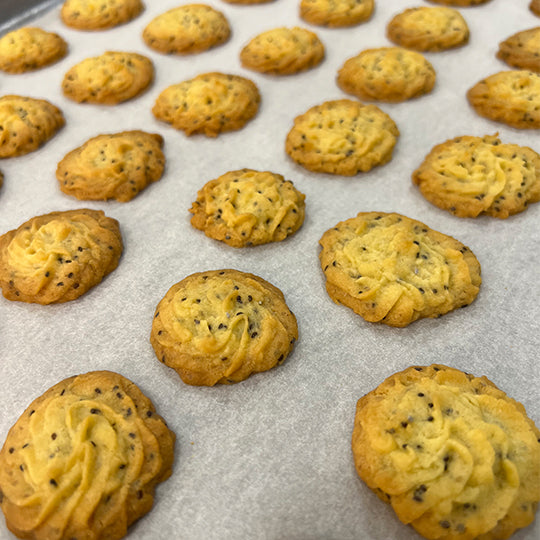 Bake Time: 10-12 minutes
Temperature: 175C
Prep Time: 15 min
Serving : 48 cookies

Ingredients List
Radiant Organic Chia Seeds - 20g              

Radiant Organic Unbleached Plain Flour - 2 cups (240g)

Radiant Gourmet Sea Salt - ½ tsp (3g)

Radiant Organic Cane Sugar (Unrefined) – ½ cup (100g)

Vanilla Extract – 2 tsp (5ml)

2 Egg Yolks

Unsalted Butter – 1 cup (227g)
Steps
In a stand mixer, cream the butter, salt and sugar together until light and fluffy.
Add the egg yolks while mixing.
Add 2 tsp vanilla extract.
Next, pour in the flour mixture and mix until incorporated.
Roll the dough into a log. Wrap in parchment paper or plastic, then chill it in the refrigerator for at least an hour.
Once the dough is chilled put in a pipping bag and squeeze the dough onto a parchment-lined baking sheet.
Bake at 175C for 10-12 minutes or until the edge is JUST turning golden brown
Enjoy the creamy-melt-in-your mouth goodness!
---