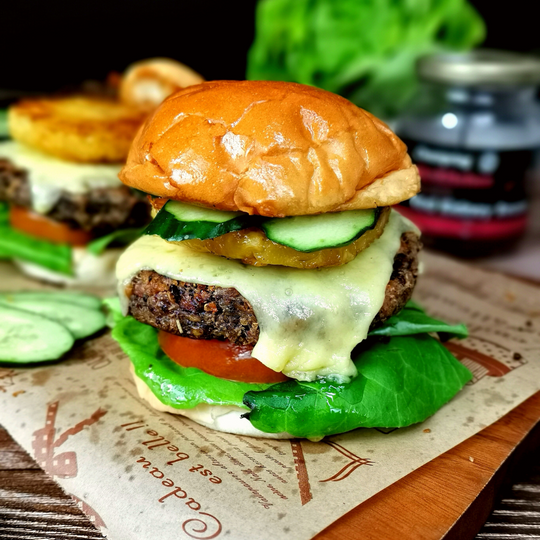 Going healthy but craving for 🍔 burgers?
What about a plant-based option? Not only are they packed with goodness, they're delicious too!
RED KIDNEY BEAN BURGERS
 
[4 servings]
 
INGREDIENTS:
 
1 cup Trio quinoa (Cooked)
1 cup Red kidney beans (Cooked)
½ cup Oat flour
1 tbsp Soy lecithin
2 tbsp Rice malt syrup
A pinch of salt
A pinch of black pepper
4 tbsp Grapeseed oil (For grilling patties)
 
SAUTÉED MUSHROOMS:
200g Mushrooms of your choice (Chopped)
1 medium Sweet onion (Chopped)
3 cloves Garlic (Minced)
4 tbsp Olive oil
1 tsp Thyme
½ tsp Rosemary
1½ tsp Salt
¼ tsp Black pepper
 

INSTRUCTIONS:
Heat olive oil in a pan, sauté mushrooms with seasonings about 5 minutes or until tender.
Give sautéed mushrooms a few pulses in a blender when they are completely cool.
Mash red kidney beans, mix all ingredients except for grapeseed oil.
Shape 4 patties about 10 cm in diameter and 1.5 cm thick. Coat them with some oat flour.
Heat grapeseed oil in a sauté pan, grill patties over medium heat for 3-4 minutes each side.
Stack hot patties on hamburger buns and top with favourite toppings. Serve warm!
Did you know that Kidney Beans are a good source of protein?
These beans are among the best sources of 🌱 plant-based protein. They're also rich in healthy fibers, which moderate blood sugar levels and promote colon health!

Upgrade your cooking with nutritious options - add on to your favourite dish or even try-out some vegan patties!
✔️Good source of several vitamins and minerals, such as molybdenum, folate, iron, copper, manganese, potassium, and vitamin K1
✔️High in protein and fiber and contain #proteins that can reduce the digestion of starches (carbs)
Tried this (or any) of our featured recipes? Tag @radiantwholefood.organic on
Instagram
---