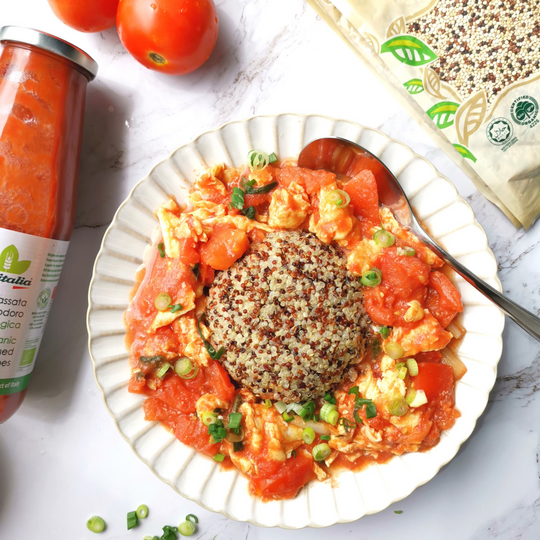 Only having quinoa for dinner as a rice replacement? You're missing out! This wonder grain is great to have for any meal - and it's super nutritious too~
QUINOA WITH STIR-FRIED TOMATO & EGGS
[2 servings]

INGREDIENTS:

QUINOA:
1 cup Dry trio quinoa

STIR-FRIED TOMATO & EGGS:
4x Eggs (slightly beaten, add salt to taste)
3x Tomatoes (medium size, cut into large chunks)
20g Scallion (cut into 3cm long)
½ cup + 2 tbsp Tomato paste (Bioitalia brand)
1½ tbsp Brown sugar
1½ tsp Salt
3 tbsp Grape seed oil

CORNSTARCH SLURRY:
1 tbsp Cornstarch + 4 tbsp Water

INSTRUCTIONS:

1. QUINOA: Rinse quinoa thoroughly then add to pot with twice the amount of water. Soak for at least 2 hours, or overnight. Then drain and rinse once more.
2. Add 1.5 times the amount of water to pot with soaked quinoa, bring water to a boil, then pop lid on and simmer for 15 minutes. Quinoa should be ready!
3. STIR-FRIED TOMATO & EGGS: Heat some oil in a pan over medium heat, pour in eggs and mix quickly until it begins to solidify, set aside.
4. Heat a wok with some oil, then sauté tomatoes and scallion for a minute.
5. Add tomato paste, brown sugar and salt, bring to a boil.
6. Add cornstarch slurry to sautéed tomatoes, mix until thickened.
7. Lastly, combine eggs and sautéed tomatoes. Serve warm!


Tried this (or any) of our featured recipes? Tag @radiantwholefood.organic on
Instagram
---