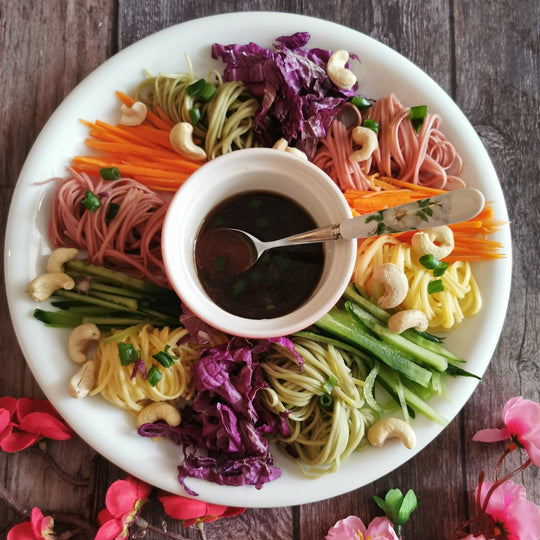 Usher in the New Year with Prosperity!
Check out this featured Prosperity Noodle Salad below~
Special thanks to Chai Shin Yih for sharing this wonderful recipe and beautiful pictures!
PROSPERITY NOODLE SALAD by https://www.instagram.com/chai_shin_yih/ 
Ingredients:-
✅ Radiant Organic Tri Veggie Noodle
✅ Radiant Organic Toasted Sesame Oil
✅ Clearspring Organic Avocado Oil
✅ Radiant Natural Cashew Nut
✅ Purple Cabbage (Cut into slices)
✅ Cucumber (Cut into slices)
✅ Carrot (Cut into slices)
✅ Chopped Onions (to garnish)
 
Dressing:-
Whisk together following:
✅ 2 tablespoons Radiant Organic Toasted Sesame Oil
✅ 1 tablespoon Radiant Shoyu (soy sauce)
✅ 2 tablespoon Radiant Apple Cider Vinegar
✅ 1 teaspoon Radiant brown sugar
✅ 1 teaspoon minced garlic

 
Cooking Instructions:-
Cook noodles in boiling water for 5-8 minutes.
Rinse Radiant Tri Veggie noodles in cold water, drained it.
Give a quick stir with Clearspring Organic Avocado Oil which gives delicious and nutty flavour to the noodles
Plated in plate with sides like purple cabbage slices, cucumber slices, carrot slices.
Add Radiant natural cashew nut for crunchy bites
Garnish with chopped onions
Serve with dressing
Mix all together and the flavors are best after refrigerated for at least 1 hour.
Tried this (or any) of our featured recipes? Tag @radiantwholefood.organic on
Instagram
---