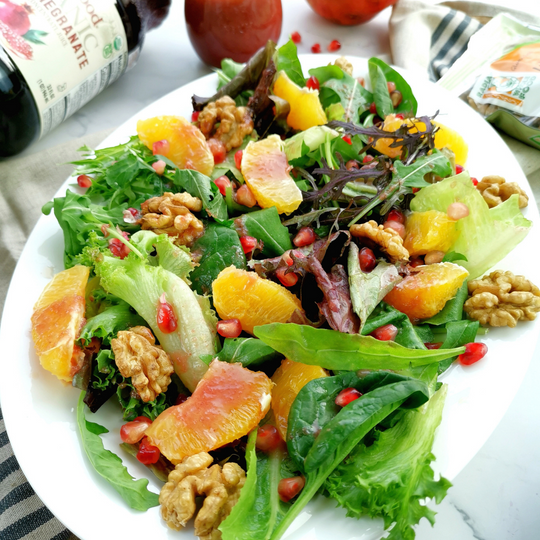 Pomegranates for your kidney health❓
Well yes! Pomegranate contains large amounts of potassium and therefore are helpful in removing kidney stones!

Add the goodness of #Pomegranate and Walnut into your 🥗 salad - Not only do they add texture, they're nutritious too!
POMEGRANATE SALAD DRESSING
 
[1¼ cups dressing]
 
INGREDIENTS:
 
SALAD:
125g Mixed salad leaves
1 Fresh orange (sliced)
½ cup Pomegranate seeds
½ cup Walnuts
Salt & Pepper
 
POMEGRANATE DRESSING:
½ cup Pomegranate juice
½ cup Pomegranate seeds
¼ cup Olive oil
1 tbsp Brown rice vinegar
1 tbsp Lemon juice
2 tbsp Maple syrup
Pinch of salt                                                      
 
INSTRUCTIONS:
Arrange salad ingredients across a large serving platter. Sprinkle some salt and pepper, set aside.
Put dressing ingredients in blender. Blend on low speed and gradually increase to high. Continue blending for a minute or until dressing is smooth and all pomegranate seeds have been blended.
Drizzle salad generously with the dressing. Serve immediately.
Tried this (or any) of our featured recipes? Tag @radiantwholefood.organic on
Instagram
---