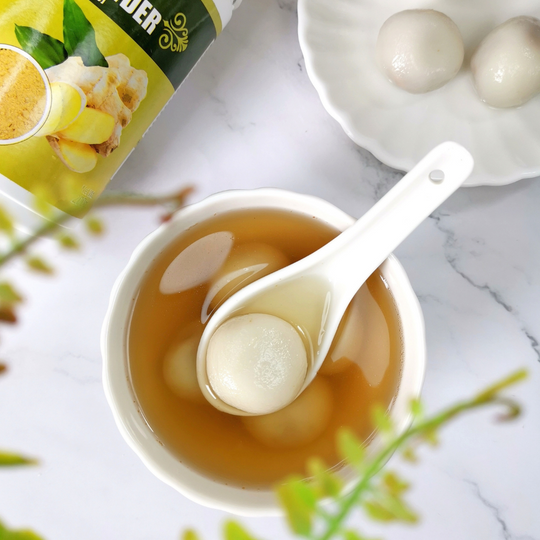 Chinese New Year is in our midst and that means the appearance of these round rice balls, tang yuan. The roundness of the tang yuan dumplings symbolizes unity and togetherness and are a popular Chinese dessert, usually filled with something sweet or savoury and served in sweet syrup or savoury soup.
PEANUT TANG YUAN
[10 peanut tang yuan]

INGREDIENTS:

GINGER SYRUP:
3 cups Water
½-1 tsp Ginger powder
4 tbsp Brown sugar
A few stalks of pandan leaves

PEANUT FILLING:
¼ cup Skinless raw peanuts
1½ tbsp Brown sugar
1½ tbsp Smooth peanut butter
½ tbsp Refined coconut oil

GLUTINOUS RICE BALL:
80g Glutinous rice flour
70g water


INSTRUCTIONS:


GINGER SYRUP:
Bring a pot of water with pandan leaves to a boil and simmer for 10 minutes. Add in ginger powder and brown sugar. Stir until sugar is dissolved. Turn off the heat and set aside.

PEANUT FILLING:
Preheat oven at 180C. Roast peanuts for 18 - 20 minutes until golden brown.
Add cooled peanuts to a food processor or blender and give it a few pulses till it becomes ground peanut.
Mix with peanut butter, brown sugar and coconut oil.

GLUTINOUS RICE BALL:
Mix glutinous rice flour and water. Knead to form smooth dough.
Divide dough into 10 small chunks (15g each). Roll into balls and cover with plastic wrap.
Use thumb to flatten dough ball, top with peanut filling, pinch dough together and roll into ball again. Place on a plate lined with plastic wrap. Repeat STEP 3 with the remainder.
Bring a pot of water to a boil. Gently drop in rice balls and cook for 2-3 minutes or until they float to the surface.
Remove rice balls with strainer and place in a bowl with ginger soup. Serve warm!
Tried this (or any) of our featured recipes? Tag @radiantwholefood.organic on
Instagram
---