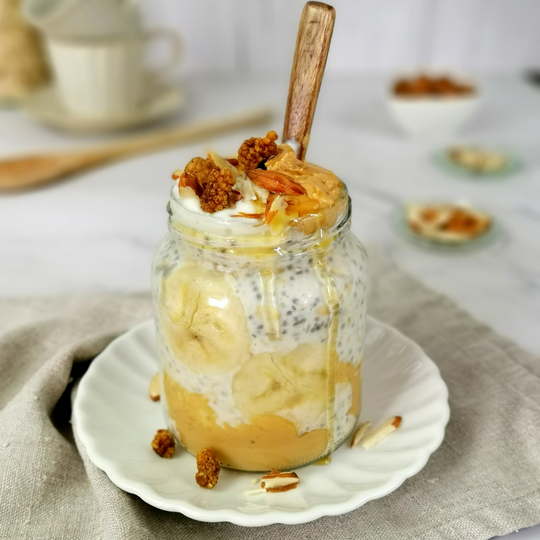 Basically a no-cook method, soaking your oats are very beneficial for your health and gut!
 
Overnight soaked oats are very high in their fibre content, which keeps your stomach filled for a longer period of time. It even helps in clearing out your digestive tract. The high resistant starch content guarantees faster fat burning and increasing the body's insulin level.
PEANUT BUTTER BANANA OVERNIGHT OAT
 
[2 servings]

INGREDIENTS:
 
9 tbsp Rolled oats
2 tbsp Chia seeds
½ cup Milk of choice
3 tbsp Natural yogurt
1 tbsp Peanut butter
2 tsp Maple syrup
Pinch of salt
 
TOPPINGS:
Handful of sliced bananas, almonds and dried mulberries (or preferred nuts and fruits)

 
INSTRUCTIONS:
 
In a serving jar, whisk together all ingredients except for toppings.
Seal and refrigerate for at least 4 hours or overnight.
Add toppings just before serving.
Tried this (or any) of our featured recipes? Tag @radiantwholefood.organic on
Instagram
---