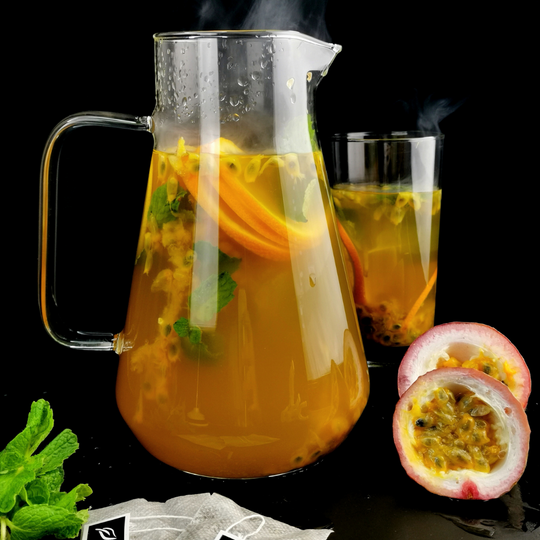 A refreshing fruity delight which you can easily make at home within minutes, this Passion Fruit Sencha is not only thirst quenching, but beneficial too!
PASSION FRUIT SENCHA
[6 servings]

INGREDIENTS:
6 tea bags Sencha green tea
6 cups Hot water at 80C
6 tbsp Honey, or to taste
6 Passion fruits
1 medium Fresh orange (sliced)
3-4 stalks Fresh mint

INSTRUCTIONS:
Add tea bags to hot water at 80C. Brew for 2 minutes. Discard tea bags, add honey and stir.
Cut open passion fruits, scoop out the pulps and juice, add to tea.
Add orange slices and some mint leaves to tea. Stir to combine. Enjoy!
*Add ice for a refreshing boost on a hot day
Fun facts : 
Passion Fruit's pulp and crunchy seeds are edible and filled with Vitamin A, fiber and nutrients that is key to
Healthy cells and immune system
Bowel movement
Lowers cholesterol and cancer risks
Helps kidneys, nerve muscles and heart rhythm
The health benefits derived from all teas, including sencha tea, are in large part due to antioxidants, catechins, vitamin C, beta-carotene, folic acid, saponins, potassium, calcium, and phosphorus found in these nutrient-dense leaves
Anticancer properties

Boosts metabolism & energy

Boosts immune system

Lowers blood pressure

Stimulates cognition

Reduces cholesterol levels
Tried this (or any) of our featured recipes? Tag @radiantwholefood.organic on
Instagram
---