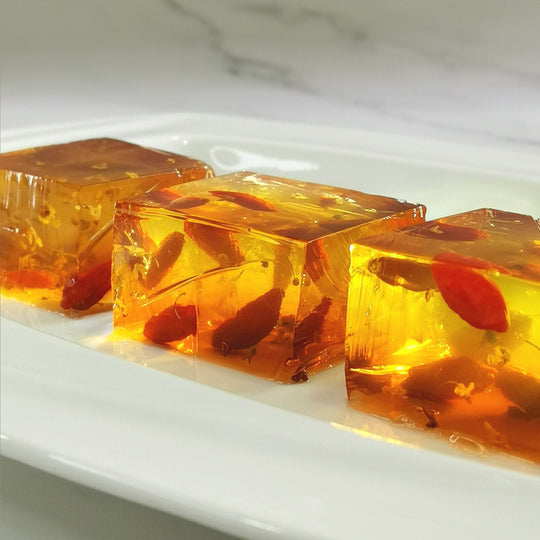 A match fit for a king and queen! 👑
Pair your mooncake with this delicious and delicate 💮 Osmanthus Jelly.


INGREDIENTS
2 tbsp Dried Osmanthus
2 tbsp Goji berries
45g Gelatin
180g Rock Sugar
2 cups of 500ml water each
METHOD
Rinse & drain osmanthus
Rinse & drain goji berries
Boil 500ml of water and let to cool for 3 minutes
Pour the hot water into a bowl of osmanthus and allow to simmer for 3 minutes
Filter out the osmanthus tea and add the rock sugars to it
On medium low heat, stir until sugar is fully dissolved
Mix gelatin with 500ml of water
Add gelatin mixture into osmanthus tea mixture, stirring until completely dissolved
Add goji berries and osmanthus flowers into final mixture
Allow pot to cool until room temperature then refrigerate whole pot for 20 minutes
After 20 minutes, mixture is slightly thickened. Mix well and transfer into 8x8 mould. Make sure to wet the inner part of a 8x8 mould with water and line with a plastic wrap first (this is to make it easier to 'lift' out the jelly)
Remove any air bubbles and use a satay stick to spread the osmanthus and goji berries evenly
Refrigerate until completely set.
To unmould jelly, lift the edges of the plastic wrap
Using a wet knife, cut out jelly into desired sizes
Serve chilled~
Good to know : Radiant Organic Goji Berry (Lycium variety) is grown in the remote hills of inner Mongolia. It has Vitamin C, Iron, beta carotene & polysaccharides.
---