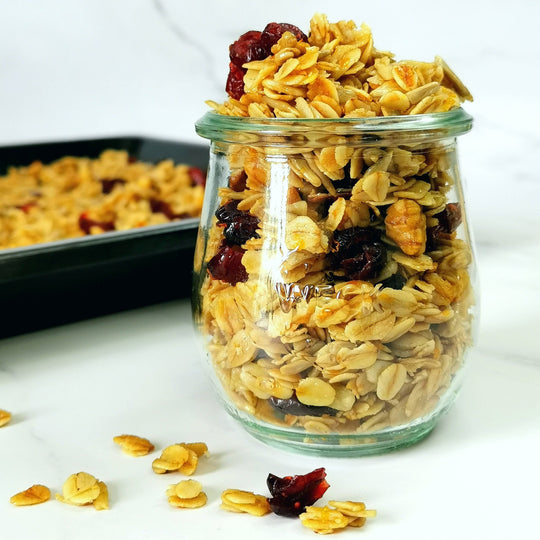 What's a simple go-to food that's perfect for working adults? 👩‍💼👨‍💼
Granolas! Perfect as a quick breakfast or even as a healthier snack choice - especially when you tend to munch while working 😏
 
Nutritious and energy boosting, try out this 🍊Orange Cranberry Granola recipe.
 
INGREDIENTS:
(A)
2 cups Rolled oats
½ cup Sunflower seeds
¼ cup Walnuts
½ tsp Salt
¼ tsp Ground cinnamon
Zest of 1 orange

(B)
¼ cup Maple syrup / Honey
¼ cup Refined coconut oil

(C)
½ cup Dried cranberries

INSTRUCTIONS:
1. Preheat the oven to 350F/180C. Line a baking pan with parchment paper and set aside.
2. In a large mixing bowl, pour in (A) and stir to combine.


3. Pour in (B) to (A) and mix well.


4. Spread granola into an even layer on the baking pan.


5. Bake for 20 – 25 minutes until lightly golden. Stirring halfway.
6. Stir in dried cranberries (C) and allow the granola to cool completely. It will further crisp up as it cools.

7. Store in an airtight container for up to a week or in the freezer for up to 3 months.
🛒Enjoy up to RM30 NOW when you shop with us ➡️
---