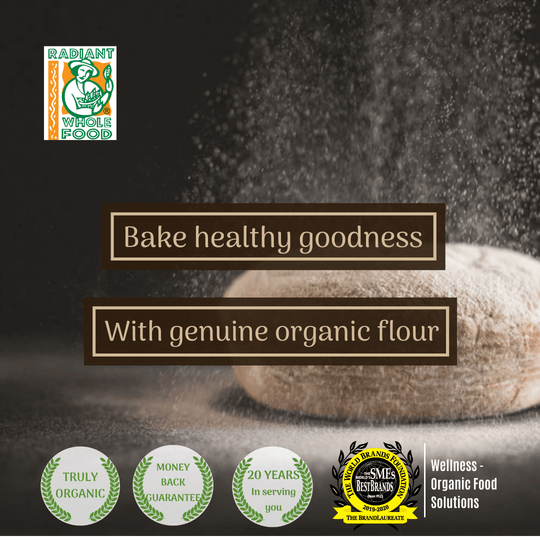 Home baked bread, cakes and desserts are healthier and safer for your family - with organic flour!
Look no further and try your hand at baking with some of our recipe suggestions.
Gluten Free Bread Recipe
Ingredients:
 935g -Radiant Organic Non Gluten Grain flour
 (consists of Organic sorghum(white),organic buckwheat flour, organic maize flour (yellow),organic quinoa (white))
 1030 ml water at 35°C
-Mix the above and leave to rest for 1 hour.

Add together the following and mix to flour mixture above
18 g Xantham gum
300 g Sweet rice flour
300g Corn /maize flour
14  g Active yeast
32 g sea salt
300 ml water at 35°C
170 g eggs
100 ml olive or coconut oil
42 g brown sugar
28 g honey
Mix well till smooth ( approx. 3 mins). Place 850 g in well oiled bread tin and leave to proof at 30°C
for 1 hour. Bake at  210° C for 50 mins, lowering temperature to 190°C for for the last 15 minutes.
Replacing xantham gum if not available 
15 gram  Flaxseed 
15 gram Chia Seed
60mls Boiling Water
 Add Boiling water to seeds and let is completely cool down.
Then  add this to your dough
( only add some weight as Xanthan Gum required )
Pound Cake
Using Radiant Gluten free Grain Flour
Ingredients:
230 g Butter ( Leave to soften at room temperature)
200g Sugar
210 g Eggs
185 g Radiant Gluten Free Flour
2 g      Radiant Aluminium free Baking Powder
5 g      vanilla
Cream butter and sugar on second speed till light on medium to high speed for 8-10 minutes.
Add eggs in 4-5 portion on slow to medium speed over 4-5 mins.Finally sieved together gluten free flour with baking powder and vanilla. Mix on slow till clear. Pour to baking tin and bake at 175°C for 50- 60 mins.
Batter
1000g Gluten free flour
200g Maize Flour
10 g Baking Soda
10 g Baking Powder
30 g Sea salt
2000 g cold water
Genoise Sponge Cake
(Italian Sponge Cake)


Ingredients:
250g  Radiant organic unrefined sugar
8 medium eggs ( 400g)
250g Radiant Gluten free Flour , sieve with 5 g baking powder
50 g Butter
Filling:
500 ml double cream, whipped to required thickness
40 g Radiant Unrefined sugar
Once cream is mixed fold through using spoon 50 g sifted Radiant Kokoa.
(Use in middle of sponge).
Mixed berries as toppings
Icing sugar – to dust at the top.
Method
1. Preheat oven to 180°C,  grease 2 pcs round cake tin ( 22 cm) and dust tin with flour.
2. Put sugar and eggs in a mixing bowl. Whisk until mixture has increased volume to approx. 5 times .
     The mixture will be ribbon like.
3. Add melted butter to ribbon like mixture. Sieve the Radiant gluten free flour gently into mixture
    with a spoon. DO NOT OVERSTIR OR USING MIXING MACHINE. Overmixing will prevent cake to rise.
4. Divide the mixture between the 2 tins and bake for 25-30 mins until skewer comes out clean.
    Cool for 10 mins and turn it out on rack.
   Ready to put the cocoa cream in the center and berries toppings and dust with icing sugar.


Muffin

Ingredients:
660 g Radiant Organic Gluten free flour
580 g Radiant Unrefined Sugar
25 g   Radiant Aluminium free baking powder
15 g   Portuguese Sea Salt fine
140g  Eggs
400g  Water
65g    Radiant Organic Milk Powder Full Cream
140g  Radiant Grapeseed oil or Radiant Cooking Coconut Oil

Blend all dry ingredients, add the liquids and mix until clear and a smooth batter.
Do not overmix as it might toughten it. Bake at 210-215°C for approx. 15-20 mins.
Varieties of Muffins.
To each kilogram of prepared muffin batter, add and fold in 100g diced apples (fresh preferably)
 and 2g cinnamom.
Garnish top of muffin with 2-3 pieces of  small apples. Lightly sprinkle with coarse brown sugar before baking.
Other options:
100g  frozen blueberrie, garnish top with 2-3 berries before baking.
OR
75g chopped dried apricots and 25g chopped walnuts. And  garnish with apricots and walnuts before baking.
---