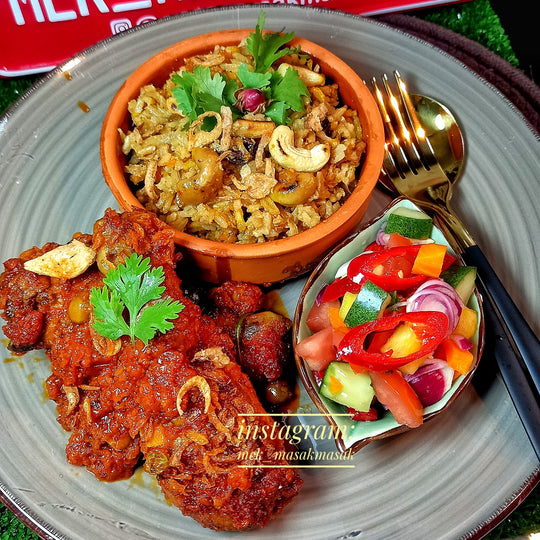 Nasi Minyak, Ayam Merah and Acar - this mouth watering combo is a favourite and must have during festive and any other occasion!
Special thanks to mek_masakmasak for sharing this wonderful recipe and beautiful pictures!
Nasi Minyak and Ayam Masak Merah by https://www.instagram.com/mek_masakmasak/
 
INGREDIENTS:
Nasi Minyak
2 tbsp minyak sapi (beef fat)
2 tbsp margarine
Malay spices (rempah 4 sekawan)
Kayu Manis - Cinnamon
Bunga Cengkih - Clove
Buah Pelaga - Cardamon
Bunga Lawang - Star Anise
2 shallots
1 inch ginger
1 can evaporated milk
1 cup of Radiant Organic Flame Raisins
4 cup of Radiant Organic Cambodian Brown Rice
5 cup of water
Pinch of Radiant Brittany Sea Salt Fine
Yellow food coloring (optional)
Coriander leaves and Radiant Natural Cashew Nuts as garnishing
INSTRUCTIONS:
Nasi Minyak
Melt the beef fat with margarine, add Malay spices, shallots, ginger, raisins, water and evaporated milk. Season with some salt.
Wash and sieve the rice, mix it with the mixture and cook normally in rice cooker.
When the rice is nicely done, sprinkle some yellow color solution. (Optional)
Fry some cashew nuts and put on top of the rice together with coriander leaves
 
INGREDIENTS:
Red Gravy Chicken recipe/ Ayam Masak merah
½ whole chicken - add some turmeric powder, fry and set aside
5 tbsp chili paste
4 clove of garlic**
2 red onions**
2 inch ginger**
1 tsp prawn paste/belacan**
2 tbsp chili sauce
1 tsp thick soy sauce
1 cube of chicken stock
1 cup of tamarind juice
Radiant Brittany Sea Salt and seasoning
Radiant Organic Cooking Coconut Oil
INSTRUCTIONS:Red Gravy Chicken recipe/ Ayam Masak merah
First we need to blend ingredients marked as ** and stir fry in oil, add chili paste, chili sauce, soy sauce, tamarind juice and seasoning.
Add some water if needed.
Lastly add the fried chicken and garnish with coriander leaves
 
INGREDIENTS:
Side Salad - Acar
Fresh pineapples diced
Cucumber diced
Shallots diced
Chili diced
Tomatoes diced
1 tbsp Radiant Organic Unrefined Sugar
2 tbsp Radiant Organic Apple Cider Vinegar
INSTRUCTIONS:Side Salad – Acar
Put all items in a bowl.
Add sugar and vinegar.
Mix it well and serve with the rest.
Watch the parts here!
---