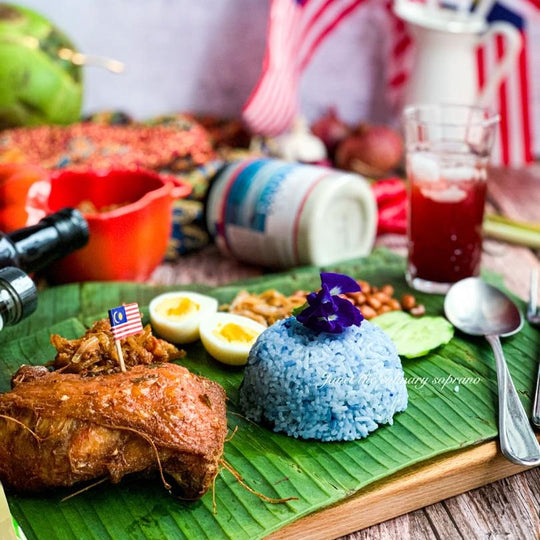 Going healthy but craving your favourite dose of Nasi Lemak?
This #Merdeka, go healthy without skimping out on your local fav - try our Nasi Lemak Ayam Berempah recipe!


Considered the national dish of Malaysia, Nasi Lemak is a breakfast staple for most of us. As delicious as it is, it is not the most healthy menu for an everyday meal - so we've done up a healthier choice, using healthier ingredients!
Special thanks to JanetTheCulinarySoprano for sharing this delicious recipe
Nasi Lemak (Rice with coconut milk) *exchanged to coconut oil for a healthier option
Ingredients: 
2 cups of white rice
3 Tbsp Radiant organic Extra Virgin Coconut Oil
2 1/2cups of water
1 pandan leaf knotted
1 lemongrass pounded
1/2 cup of blue pea flower water (soaked in hot water)
Method:
Wash the rice for two times and drain it.
Put all the ingredients into the rice cooker or a saucepan.
Boiled until cooked and let the rice to stay in the pot for 10 minutes without opening the lid or cover of the pot.
After 10 minutes, fluff the rice by using a spoon.
Sambal Tumis Ikan Bilis (Anchovies Sambal)
Ingredients: 
80 grams dried anchovies (fry with oil until crispy)
2 red onions
20g dried chilli (soaked , drained and removed seeds if prefer not to be too spicy)
100 g red chilli (cut and remove seeds if prefer not to be too spicy)
100g shallots (roughly cut)
5 garlic cloves
40g belachan (dried shrimp paste) lightly sauté with oil until fragrant
Half cup of water
1/2 tsp Radiant Organic Britanny Fine sea salt
2 Tbsp

Radiant Organic Brown Sugar
Method:
Add in chilli, shallots, garlic, shrimp paste into a blender. Add in water and blend the ingredients into fine paste.
Saute the blended paste with oil until fragrance, set aside.
Stir fry onion, then add in the paste and fried anchovies. Mix well and cook for 8-10 minutes. Your sambal is ready!
Ayam Goreng Berempah (Spiced Fried Chicken)
Ingredients:                                                                                                     
3 lemongrass
5 garlic cloves
1/2 inch ginger
1 Tbsp turmeric powder / 1 inch fresh turmeric
1 tsp Radiant Organic Coconut Palm sugar
1 tsp Radiant Brittany Fine Sea Salt
1 Tbsp

Radiant organic Shoyu

1 Tbsp ground coriander
1 tsp ground fennel
1 tsp ground cumin
4 chicken legs
3 Tbsp Radiant organic Extra Virgin Coconut Oil
Few stalks of curry leaves
1 egg ( lightly beaten)
3 Tbsp corn flour
Method :
Clean the chicken legs and poke chicken legs with some holes.
In a mortar, add in lemongrass, turmeric, garlic and ginger. Pound into a paste.
Add in pounded paste.
Marinate the chicken legs overnight in a fridge or at least more than 4 hours before frying.
Add egg and corn flour into the chicken before deep fry the chicken.
---