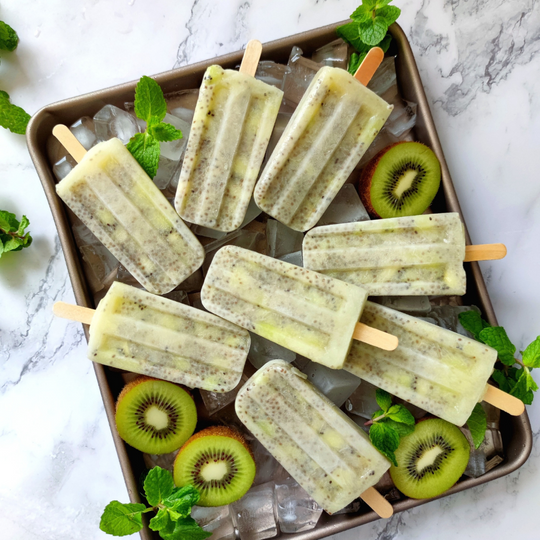 Healthy doesn't mean boring! Perk up your day with popsicles filled with goodness - and fall in love with it's 🥝 fresh flavour and crunchy little seeds.
[8 servings]

INGREDIENTS:
2 cups Unsweetened oat milk
2 tbsp Maple syrup (Optional)
¼ cup Chia seeds
3 Kiwi (Peeled, Diced)

INSTRUCTIONS:
Stir together oat milk and chia seeds. Add sweetener if desired. Cover and place in fridge for at least 2 hours or until chia seeds expanded.
Spoon in first layer of chia pudding (about 1 tablespoon) into 8 medium popsicle moulds, then layer in abit of kiwi fruit. Repeat the layering until moulds are full. Use popsicle stick to spread kiwi fruit evenly if needed.
Cover moulds and insert wooden popsicle sticks.
Freeze for at least 4 hours until popsicles are solid. Enjoy!

Did you know?
✔️ Kiwi is rich in potassium and fibre - great in improving digestion.
✔️ Chia seeds are HIGH in Omega-3 - great for boosting brain and heart health. 
Tried this (or any) of our featured recipes? Tag @radiantwholefood.organic on
Instagram
---