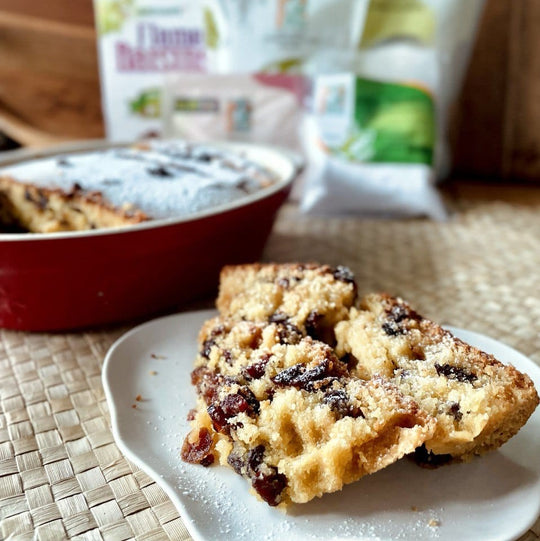 What's the Raya festive season without some delicious homemade Light Fruit Cake? Check out this featured recipe below!
Special thanks to by_azahzara for sharing this wonderful recipe and beautiful pictures!
RESEPI KEK BUAH BAKAR / LIGHT FRUIT CAKE by https://www.instagram.com/by_azahzara/
By: Nina Mahdar 
BAHAN-BAHAN:
250g mentega
150g Radiant Organic Unrefined Cane Sugar
4 biji telur gred A
250g Radiant Organic Unbleached Plain Flour
2 sudu makan Radiant Organic Unbleached Plain Flour (untuk gaul pada buah)
300gm mixfruit (buah2an kering)
Radiant Organic Dried Cranberries & Radiant Organic Flame Raisins
50g susu cair / uht
1 sk ovalette
1 sk Radiant Baking Powder
1 sk esen vanilla
ARAHAN:
Pukul mentega, ovalette dan gula sehingga kembang.
Masukkan telur sebiji demi sebiji dan pukul sehingga sebati.
Kemudian masukkan esen vanilla. Pukul hingga sebati.
Sementara itu satukan tepung dengan serbuk penaik.
Ambil 2 sudu besar tepung dan gaulkan dengan buahan campuran untuk mengelakkan buah dari mendap ke dasar kek.
Masukkan tepung sedikit demi sedikit berselang seli susu dan putar rata.
Kemudian masukkan buahan kering, gaul rata.
Masukkan adunan ke dlm loyang bersaiz 7 inci.
Bakar dalam ketuhar selama 35-45 minit atau sehingga masak.
Jangan terlebih bakar nanti kek akan menjadi kering.
Selepas 35 minit, cucuk dengan lidi sate jika keluar licin maksudnya kek dah masak bolehlah diangkat dan sejukkan atas redai.
Sejukkan kek. Bungkus terlebih dahulu menggunakan plastik wrapping lebih kurang semalaman untuk dapatkan kek yang lembab dan buah tidak berterabur bila di potong.
---