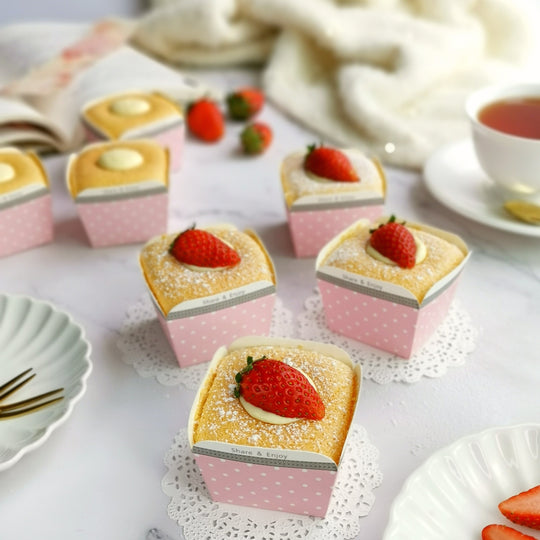 Love light airy desserts? Sink your teeth into Hokkaido cupcakes! Soft, fluffy and filled with delicate whipped cream - this little cakes are such fun and delicious treats to have at home.
HOKKAIDO CUPCAKES
[10 servings]
INGREDIENTS:EGG YOLK BATTER:
4 Egg yolks
40g Grapeseed oil
60g Milk
60g Cake flour
¼ tsp Salt 
MERINGUE:
4 Egg whites
60g Granulated sugar
¼ tsp Lemon juice 
FILLING:
150g Whipping cream
80g Milk
2 tsp Instant custard powder
½ tsp Vanilla extract 
INSTRUCTIONS:
Preheat the oven to 130C.
EGG YOLK BATTER: In a mixing bowl, beat egg yolks with an electric mixer for a few seconds.
Add grapeseed oil and milk, mix well.
Sift in cake flour and mix well, set aside.
MERINGUE: In another mixing bowl, whip egg whites, lemon juice and half of sugar with an electric mixer until foamy. Then add the rest of sugar and whip until soft peak.
COMBINE & BAKE: Add ⅓ meringue to egg yolk batter and blend well with a whisk. Then add the rest of meringue half at a time and gently fold into batter with a spatula until no white streaks remain.
Fill mixture to cups 70% full. Tap cups 2-3 times on table top to remove any air bubbles. Bake at 130C for 30 minutes, then increase to 150C for 15 minutes.
Knock the cupcakes on table top once to prevent shrinking and set aside to cool completely.
FILLING: Mix instant custard powder with milk and vanilla extract, set aside.
Beat whipping cream until stiff, add custard mixture and mix evenly.
Fill cream into a piping bag with nozzle. Make a hole on top of each cupcake and pipe in cream.
Dust with icing sugar and garnish with fruit if desired. Chill for at least an hour before serving.
Tried this (or any) of our featured recipes? Tag @radiantwholefood.organic on
Instagram
---