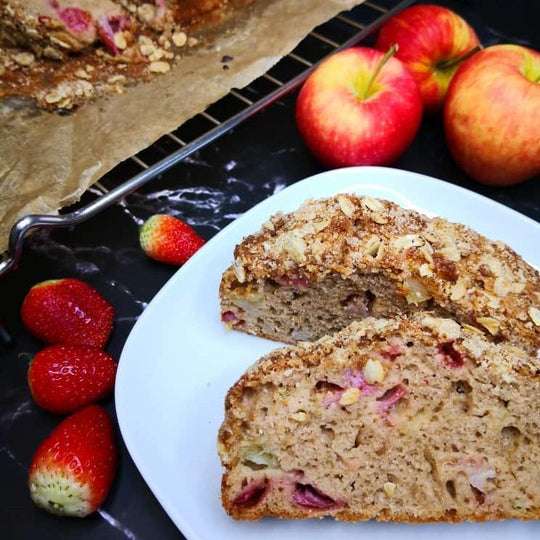 Are you a fruitcake lover?
Here's a healthy twist on the traditional fruit cake loved by many.
A festive, flavorful, and lovely fruit cake to enjoy all holiday season!
INGREDIENTS
1 1/4 cup
self-raising flour
1/2 cup
sugar
1/2 teaspoon cinnamon
2 eggs
3 tablespoons
grapeseed oil
2 tablespoons
milk
1 apple, chopped
1/2 cup strawberries, sliced
Crumb Topping:
2 tablespoons
brown sugar
2 tablespoons
oats
2 tablespoons
flour
1 tablespoon
grapeseed oil
INSTRUCTIONS
Preheat oven to 180'c
Grease baking dish.
In a large bowl, stir flour, sugar and cinnamon until well combined.
Add eggs, oil, milk, and fruit. Fold until a thick, dense batter comes together.
Pour into prepared baking fish and smooth out evenly with spatula.
In a small bowl, combine all ingredients needed for crumb topping. Stir until it comes together and sprinkle generously over cake.
Bake for approximately 25-30 minutes , poke a tooth pick until tooth pick comes out clean.
Let cool completely and enjoy for breakfast or dessert!
---