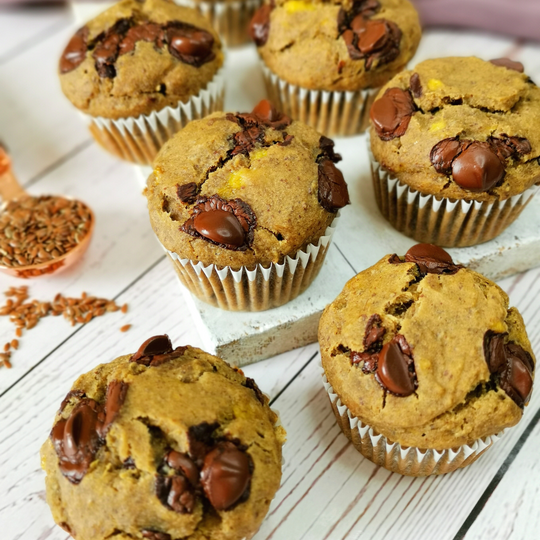 Wholesome and Nutritious power muffins that's great as breakfast muffins or even a delicious treat for tea!
These flaxseed muffins are a great way to include flaxseed into your day - Flax seeds are good sources of many nutrients. Their health benefits are mainly due to their content of omega-3 fats, lignans and fiber.
FLAXSEED MEAL BANANA MUFFINS WITH BITTERSWEET CHOCOLATE
[7 large muffins]

INGREDIENTS:

DRY INGREDIENTS:
1¾ cup Oat flour
¼ cup Flaxseed (Ground)
100g Molasses sugar, or to taste
1 tsp Baking soda
½ tsp Ground cinnamon
¼ tsp Salt

WET INGREDIENTS:
1x Egg (Slightly beaten)
¾ cup (220g) Ripe bananas (peeled weight, mashed)
¾ cup Unsweetened oat milk
¼ cup Refined coconut oil
1 tbsp Apple cider vinegar
1 tsp Vanilla extract

CHOCOLATE CHIPS:
70g 60% Cacao bittersweet chocolate chips


INSTRUCTIONS:
Preheat oven to 190C. In a mixing bowl, whisk dry ingredients together, set aside.
Using a blender or food processor, grind flaxseed until they ground to your desired consistency.
In a large mixing bowl, mix wet ingredients until smooth and creamy.
Add dry ingredients to wet ingredients and mix until just combined. DO NOT OVER MIX!
Fill muffin liners with batter, sprinkle chocolate chips on top of batter. Bake for 25 minutes or until toothpick comes out clean. Enjoy!
Tried this (or any) of our featured recipes? Tag @radiantwholefood.organic on
Instagram
---