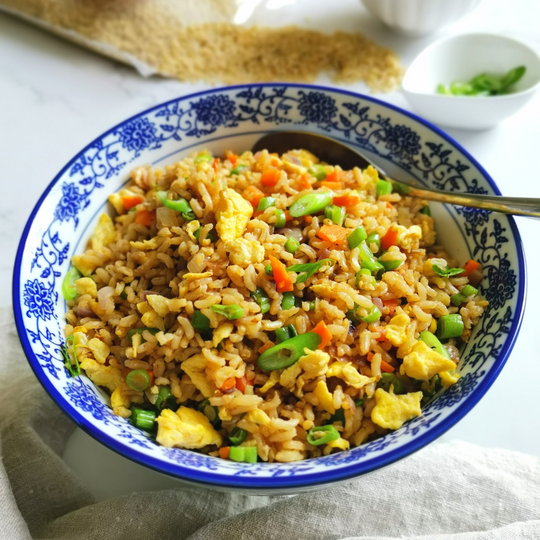 A delicious and simple meal that is both nutritious and healthy! This fried rice recipe uses brown rice; a healthier alternative to white rice~
Why #BrownRice?
Brown rice has only had the tough outer husk removed and the bran and germ intact. That means more fiber and nutrients, and slower digestion. It's also more filling than white rice.
EASY VEGETABLE FRIED BROWN RICE WITH EGG
[3 servings]

INGREDIENTS:
3 cups Brown rice (Cooked and Chilled)
½ cup Carrot (Diced)
½ cup French beans (Diced)
½ cup Onion (Chopped)
2 cloves Garlic (Minced)
2 Eggs
2 tbsp Vegetable oil
2 tbsp Tamari
Salt & white pepper, to taste

INSTRUCTIONS:
Heat some oil in a wok over medium heat, pour in eggs and cook until scrambled then set aside.
Add remaining of oil to wok over medium-high heat, stir fry carrots, French bean and onion for 3 - 4 minutes. Add garlic and cook for an additional minute or so.
Immediately add rice and tamari, stir fry for a few minutes. Then add eggs, stir to combine.
Taste and season with salt and white pepper, add more tamari if needed. Mix well.
Garnish with spring onions if desired. Serve warm!
Tried this (or any) of our featured recipes? Tag @radiantwholefood.organic on
Instagram
---