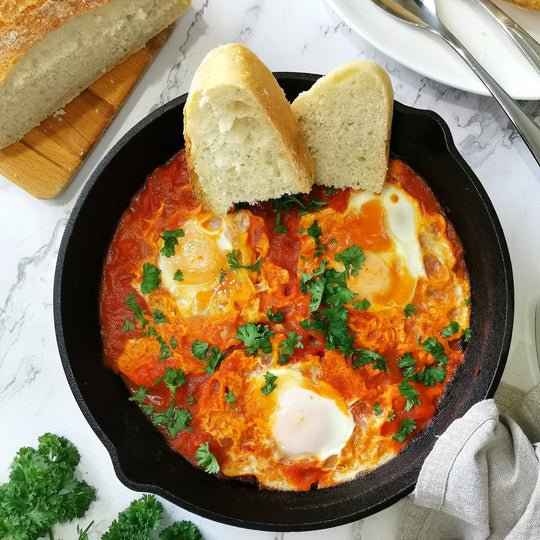 Have you ever heard of Shakshuka? It is a North African and Middle Eastern classic dish! Which is simple and fill up with all the healthy ingredients to provide various of nutrition's in a bowl! 
Easy & simple one-pan meal , and your breakfast/dinner is ready ! Is the best paired with crusty bread. 
One-pan Shashuka
[3 servings]

INGREDIENTS:

1 tbsp Olive oil
1 medium Sweet onion (Diced)
2 cloves Garlic (Minced)
4 tbsp Tomato paste
450g Fresh tomatoes (Diced)
½ medium Red capsicum (Diced)
1 tsp Chilli powder
1 tsp Paprika
1 tsp Ground cumin
1 tbsp Brown sugar
Salt & black pepper, to taste
3 Eggs
¼ cup Fresh parsley (Chopped)

INSTRUCTIONS:

Heat olive oil in a skillet pan/frying pan (10-inch) over medium heat. Add sweet onion and cook for 5 minutes, or until softened. Stir in garlic.
Stir in tomato paste and diced tomatoes, followed by red capsicum.
Add in all the spices and sugar. Let it simmer for 10-15 minutes until it starts to reduce and thicken. Season with salt and pepper. Adjust the spices and seasonings according to individual preference!
Use the back of the cooking spoon, make 3 "wells" in the tomato mixture and crack eggs into each well.
Cover the pan and simmer for 5 minutes, or until the eggs are set.
Sprinkle with fresh parsley and serve with crusty bread. Enjoy!
Tried this (or any) of our featured recipes? Tag @radiantwholefood.organic on
Instagram
---