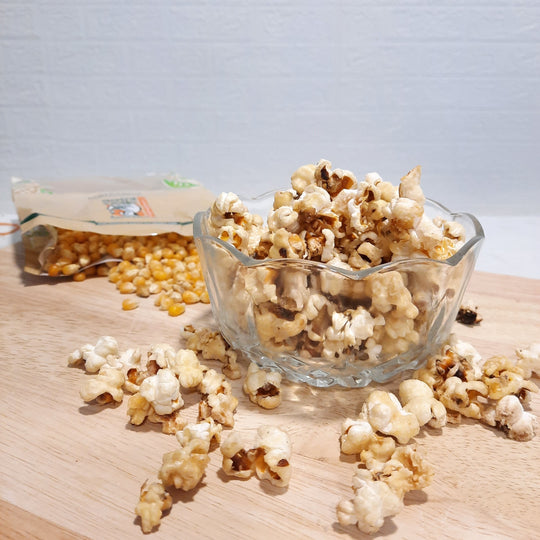 Do you know pop corn is one of the low calories snack that you deserve on your diet plan ? Just the basic ingredient you can make your own healthy pop corn  ! Crunchy and easy to make !   
Grab your bowl of pop corn enjoy with your favorite movie !
INGREDIENTS
1 tbsp coconut oil 
50g Unsalted butter 
1/4 cup popcorn kernels 
1 cup maple syrup 
a-pinch of salt 
INSTRUCTIONS 
1. In a deep saucepan (with lid) , heat up the coconut oil. Add the pop corn kernels and cover with lid, wait about 20-30seconds the kernels will start popping. Share the saucepan to ensure the kernels all pop.
2. Once the popping has slowed down/stop, remove from heat and let it cool down for another minutes. 
3. Heat the maple syrup until it boils and let it simmer for a few minutes, follow by 50g of butter added and let it boil until slightly thicken. Pour the hot maple syrup over the popcorn and stir to coat immediately and sprinkle with a pinch of salt. 
4. Let's bake to make it become crunchy ! Transfer the popcorn to the oven and bake for 30mins.
5. Store in airtight container for up to 2 weeks ! 
Quick tips: For people who are in healthy diet , you can just serve the popcorn without adding any sauce. 
Tried this (or any) of our featured recipes? Tag @radiantwholefood.organic on
Instagram
---