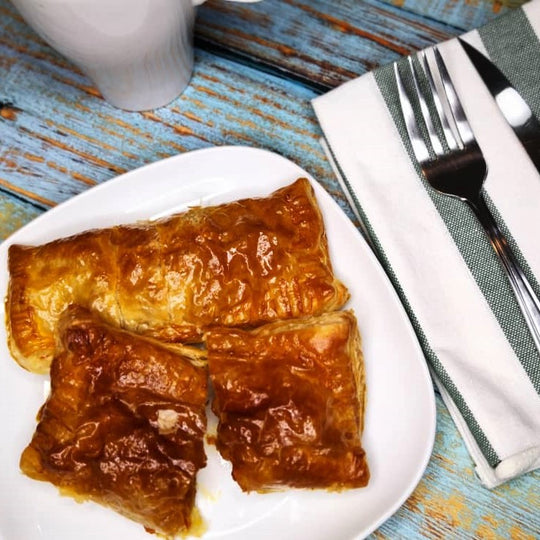 Curry Puff or 'Karipap' is a well loved kuih by Malaysians and commonly served for breakfast or teatime. 


Make this yummy stuffed pastry in your own kitchen - switch up your oil to cooking coconut oil for a healthier choice!
INGREDIENTS
3 medium size potatoes - cubed
2 TBSP curry powder
2 TBSP VCO (Cooking coconut oil)
1 Large onion - thinly sliced
100g chicken meat - diced
1 tsp salt
100ml water
8 pieces ready made puff pastry 5" square
1 egg - for brushing


INSTRUCTIONS
Heat up VCO, add in onion. Sauté till onion turn soft
Add in chicken , stir fry for 1 minute
Add in potatoes, stir fry for another minute
Pour in curry powder and salt. Mix well.
Pour in water, bring to boil then turn to low fire. Cover the pot, simmer for 5-8 minutes, stir occasionally till potatoes turn soft,
Let the curry potatoes totally cold down to room temperature.
Scoop curry fillings onto puff pastry squares. Secure the sides with fork.
Bake for 200'c for 15 minutes.
TIP: 
You can make extra and store in freezer (step1-7).
Bake in oven 15 minutes 200'c before serving. (Do not defrost)
Tried this (or any) of our featured recipes? Tag @radiantwholefood.organic on
Instagram
---