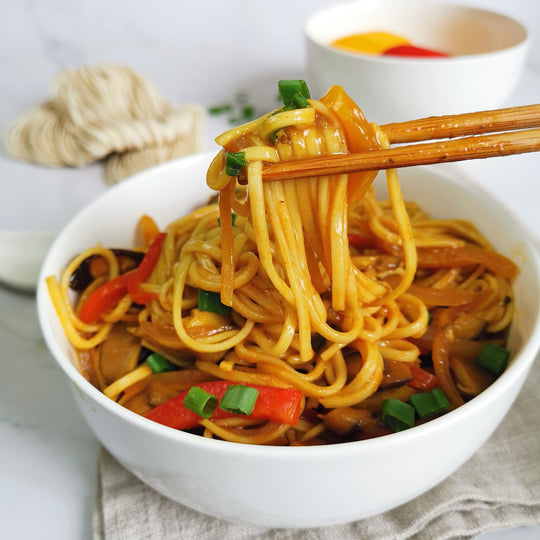 Looking for a low maintenance + simple ingredients recipe?
We've got you covered!

Check out this Curry & Pepper 🍜 noodles that is not only healthy delish - but #VeganFriendly too!

This recipe uses ingredients with nutritional benefits~
✔️Quinoa noodles is gluten-free , high in protein and contain sufficient amounts of all nine essential amino acids.

✔️Grape seed oil high quality vegetable oil is cholesterol free that helps to lower LDL cholesterols, high in polyunsaturated and low in saturated fats, high in linoleic acid (Omega –6), vitamin E and fatty acids.
CURRY & PEPPER NOODLES
[2 servings]

INGREDIENTS:
3 bricks (125g) Quinoa noodles
1 tbsp Grapeseed oil
2 tbsp Spring onions (Chopped for garnish)
VEGGIES:
Sliced Shiitake mushroom
Sliced sweet onion
Sliced red capsicum
Sliced yellow capsicum
(May swap to desired veggies)
SAUCE:
2 tbsp Curry powder
2½ tbsp Soy sauce, or to taste
2 tbsp Maple syrup, or to taste
½ tsp Ground pepper
¾ cup Water
CORNSTARCH SLURRY:
1½ tbsp Cornstarch + 3 tbsp Water
INSTRUCTIONS:
1. Mix sauce ingredients in a bowl. Set aside.
2. Place the noodles in hot boiling water for 5 minutes, then rinse in cold water to get the al dente texture.
3. In a heated wok with grapeseed oil, sauté veggies until tender over low-medium heat.
4. Add in the sauce and let it simmer for a while.
5. When the sauce is boiling, add in the cornstarch slurry and mix the sauce until thickened.
6. Turn the heat to low, add in the cooked noodles and mix until well combined.
7. Garnish with spring onions and serve while hot!
Tried this (or any) of our featured recipes? Tag @radiantwholefood.organic on Instagram
---