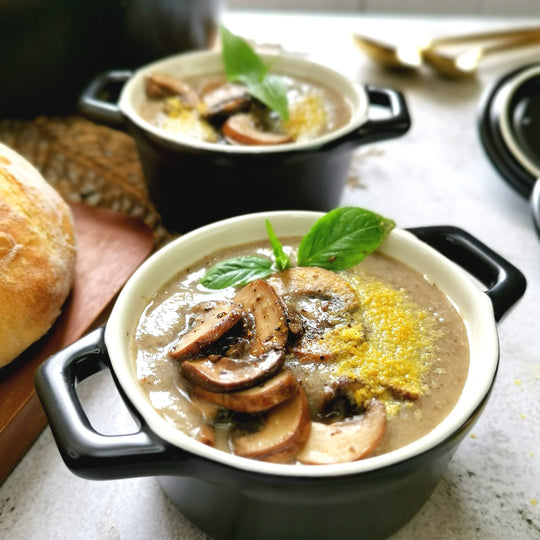 Bored of conventional pre-packed mushroom soup? Let's try this super simple recipe that you will never fail! An earthy , rich & creamy mushroom soup !
Everyone loves soup right ? No one can resist on rich mushroom soup especially the kids & your family. The simple ingredients to make your favorite comfort food , healthier version with low carbs & even suitable for vegetarian. 
CREAMY MUSHROOM SOUP (VEGAN)
[5 servings]
INGREDIENTS:

SOUP:
3 tbsp Olive oil
½ medium Sweet onion (Diced)
2 cloves Garlic (Diced)
250g ¹Swiss brown mushrooms (Chopped)
150g ¹Shiitake mushrooms (Chopped)
2 tsp Thyme
3 tbsp Plain flour
3 cups Vegetable stock
1 cup Unsweetened oat milk
Salt & black pepper, to taste

GARNISH:
1 tbsp Olive oil
120g ¹Swiss brown mushrooms (Sliced)
Salt & black pepper, to taste
Nutritional yeast, to taste

INSTRUCTIONS:
Heat a skillet with olive oil and sauté sliced mushrooms for a few minutes. Season them with some salt and pepper and cook until tender and browned. Set aside for garnish later.
Heat a soup pot with olive oil over medium heat and sweat diced onion for 3 minutes, or until soft and translucent.
Add in garlic and continue to cook for about a minute until very fragrant.
Add in chopped mushrooms and thyme, sauté until tender.
Mix plain flour well with mushrooms and continue to sauté for about a minute.
Add stock, mix again and bring to a boil. Simmer soup for 15 minutes.
Turn heat off, use an immersion blender to ²puree soup until smooth.
Turn heat to medium-low again, stir in oat milk and mix well.
Season to taste with salt and black pepper.
Garnish with sautéed mushrooms and nutritional yeast. Serve warm!
NOTE:
¹ Feel free to go for your favourite mushrooms!
²Another alternative is to puree soup in batches using food processor or blender.

Tried this (or any) of our featured recipes? Tag @radiantwholefood.organic on
Instagram
---