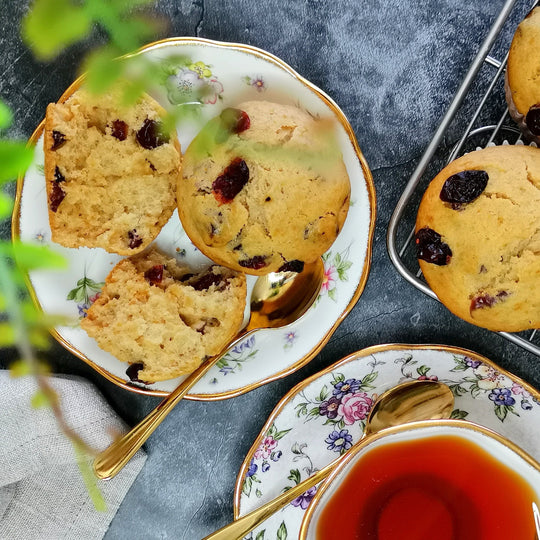 Satisfy your muffin craving with this delicious recipe! Great for breakfast and teatime ~

Hot tip : For many baked goods, a flax egg substitute or a chia one works well for adding in binding power and some moisture to a recipe. Chia and flax seeds naturally become gelatinous when they absorb water. A wonderful plant based egg substitute for many recipes!
[9 muffins]
INGREDIENTS:
(A)
1 Flax egg (See instruction below)
(B)
1 tbsp Apple cider vinegar
150ml Unsweetened soy milk or almond milk
(C)
2 cups  (250g) Plain flour
½ cup   (100g) Brown sugar
2 tsp Aluminium free baking powder
1⁄4 tsp Baking soda
½ tsp Salt
(D)
1⁄ cup + 2 tbsp Refined coconut oil
1⁄4 cup (60ml) Acacia honey
(E)
1 cup Dried cranberries
INSTRUCTIONS:
Preheat the oven to 375F/190C. Line a muffin pan with paper liners and set aside.
To make a flax egg (A), mix 1 tbsp flaxseed meal with 3 tbsp water, set aside for 10 minutes.
In a bowl, mix (B) and set aside for 5 minutes.
In another bowl, mix dry ingredients (C).
Add (A) and (D) to (B), mix wet ingredients well.
Now add the wet to dry ingredients. Don't over mix, a few lumps are fine.
Using a silicone spatula, gently fold the dried cranberries (E) into the mix.
Fill the batter into each muffin liners. Bake for 25 minutes or until a toothpick inserted in the center comes out clean.
Let muffins to cool for 5 minutes in the muffin pan, and then transfer to a wire rack.
Get your ingredients here!
Tried this (or any) of our featured recipes? Tag @radiantwholefood.organic on
Instagram
---