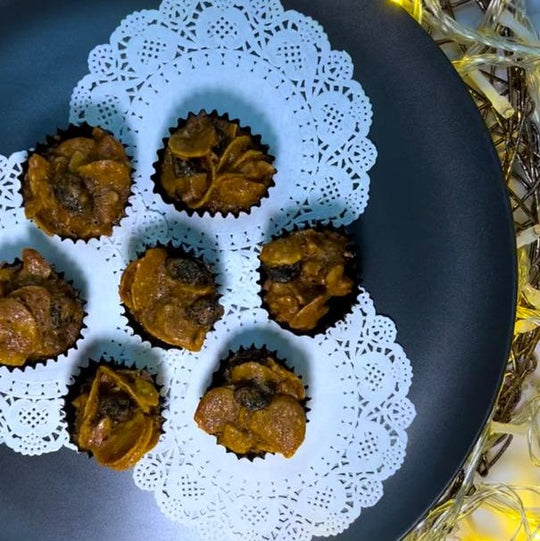 This simple and easy cookie is a must-have during any festive season!
Special thanks to Aimi Foodgram for sharing this wonderful recipe and beautiful pictures!
COCONUT CORNFLAKES COOKIES by https://www.instagram.com/aimifoodgram/
 
INGREDIENTS:
½ cup Radiant Organic Cooking Coconut Oil
½ cup Radiant Coconut Sugar
1 large egg
¼ tsp vanilla extract
¼ cup Radiant Organic Unbleached Plain Flour
½ tsp Radiant Baking Soda
½ tsp Radiant Brittany Sea Salt Fine
5 cups Radiant Organic Cornflakes
½ cup Radiant Natural Walnut
½ cup Radiant Organic Flame Raisins
INSTRUCTIONS:
Preheat oven to 175 C. Place baking sheet on baking pan.
In a large bowl, mix coconut oil, coconut sugar, egg and vanilla until well blended. Combine flour, baking soda, salt, stir into sugar mixture. Mix in the cornflakes, walnut and raisins last. Scoop cookie batter with a medium-sized ice cream scoop onto the prepared cookie sheet.
Bake for 10-12 minutes in the preheated oven. Allow cookies to cool on baking sheet for five minutes before moving to a wire rack to cool completely.
---