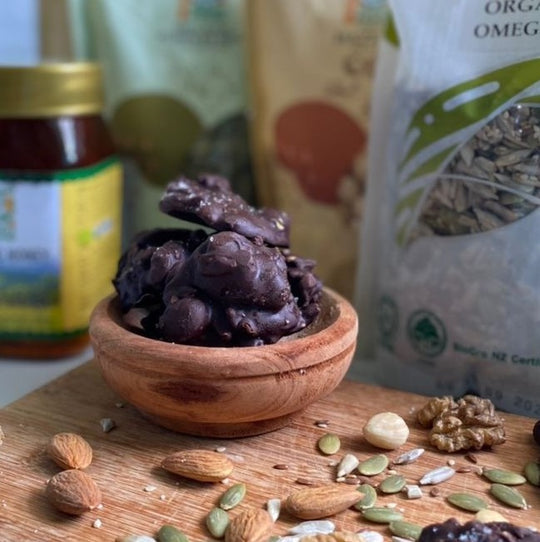 Snack on this delicious and nutritious treat that!
Special thanks to Faten Alya for sharing this wonderful recipe and beautiful pictures!
Chocolate Nuts & Seeds Cluster by https://www.instagram.com/fatenmasak/   INGREDIENTS:
1 cup Radiant Natural Walnut
1 cup Radiant Natural Almonds 
1 cup Radiant Natural Hazelnut
1 cup Radiant Organic Pumpkin Seeds 
1 ¼ cup Radiant Omega Mix*
500g dark chocolate 
1 – 2 tbsp. Radiant Organic Honey (optional) 
Pinch of Radiant Portuguese Sea Salt Fine
 
*Omega Mix contains organic sunflower kernel, pumpkin seed, flaxseed, and sesame seed.
                                 
INSTRUCTIONS:
Roughly chop nuts and place them in a large non-stick frying pan with seeds. Dry roast over a low heat until pumpkin seeds start to pop, continuously stirring with a wooden spoon to ensure no burning. 
Place in a mixing bowl and add a pinch of salt and honey if using. Reserve ¼ cup of nut and seed mixture.
Using the bain-marie method, gradually melt the chocolate. 
When fully melted, add the chocolate to the bowl of nuts and seeds and stir until all are evenly coated. 
On a lined baking tray, spoon the mixture into clusters. 
Sprinkle the remaining reserved mixture over clusters to decorate, then allow to set in the fridge for at least 1 hour. 
Store in an airtight container in the fridge, freezer or a cool pantry.
---