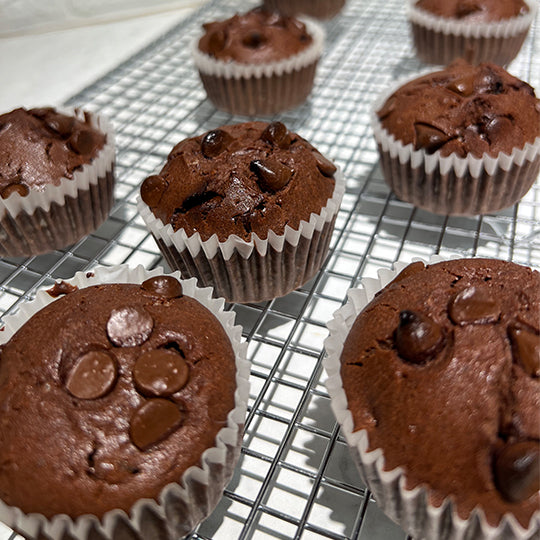 Bake Time: 20 minutes
Temperature: 180C
Prep Time: 15 minutes
Serving: 20 muffins ( Depending on cake mold size )

Ingredients List
Eggs – 2

Plain Yogurt – ¾ cup (170g)

Vanilla Extract – 2 tsp (10ml)

Semi-sweet Chocolate Chips – 2 cups

Radiant Organic Unbleached Plain Flour – 1 ¾ cups (210g)

Radiant Organic Kokoa Powder – 2/3 cup (60g)

Radiant Organic Cane Sugar (Unrefined) – 1 cup (200g)

Radiant Baking Powder (Aluminum Free) – 1 ½ cup

Radiant Gourmet Sea Salt – ¾ cup

Radiant Organic Cooking Coconut Oil – ½ cup (120ml)

Radiant Organic Raisins – ½ cup

Living Planet Low Fat Milk – ½ cup (120ml)
Steps
Line the muffin tray with baking paper

In a large bowl, whisk milk and eggs together till combined, next add in the Cooking Coconut Oil, yogurt and vanilla extract together and whisk till mixed well.

Get another bowl and a strainer, then add in plain flour, baking powder, kokoa powder, and a pinch of salt then sift, whisk the dry mixture together, lastly add in the Cane Sugar and mix well.

Next, pour the wet mixture into the dry mixture and combine both mixture together and mix well.

Then add in the chocolate chips and raisins and fold it in the mixture (batter).

Scoop out the batter & put in the lined muffin tray and top it off with more chocolate chips.

Bake at 180c for 20 minutes.

Enjoy the chocolatey goodness!
---