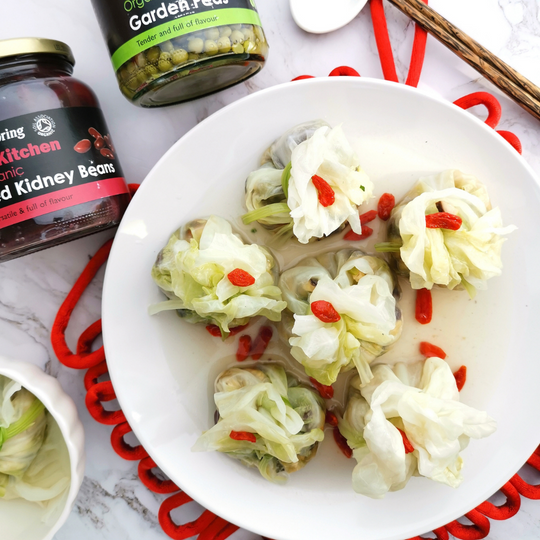 Simple ingredients, loads of nutrients, heaps of color, bursting with flavor - impress your family with this juicy and nutritious Chinese cabbage fortune bag!
Carrots and cabbage are great sources of fibre, which promotes healthy bowel movement, aids in digestion and protects the heart. This good luck CNY dish is suitable for all ages and a healthier choice . Make it for your family on this Chinese New Year Eve's dinner!
CHINESE CABBAGE FORTUNE BAG
[9 servings]

INGREDIENTS:

1 Large head of cabbage
3 cloves Garlic (minced)
1 medium Onion (diced)
1 cup Tao Kua (drained, diced)
⅓ cup Black fungus (sliced)
⅔ cup Mushrooms (diced)
½ cup Carrot (diced)
½ cup Celery (diced)
½ cup Kidney beans (cooked)
½ cup Garden peas (cooked)
2 tbsp Coriander (chopped)
2 stalks Celery
½ cup Potato starch (spread on blanched cabbage leaves)
1 tbsp Goji berries

SEASONINGS FOR FILLING:
2 tbsp Grape seed oil
1 cup Vegetable stock
½ tsp Vegetarian seasoning powder
2 tbsp Shoyu, or to taste
½ tsp Salt, or to taste
¼ tsp Pepper

SEASONINGS FOR SAUCE:
1 cup Blanching water
¼ tsp Salt, or to taste
¼ tsp Sesame oil
¼ tsp Shaoxing wine (optional)
A few shakes of pepper

POTATO STARCH SLURRY:
1 tbsp Potato starch + 3 tbsp Water


INSTRUCTIONS:
FILLING:

Heat oil in a wok and stir-fry garlic, onion, Tao Kua, black fungus, mushrooms, carrot and celery. Add seasonings and just enough amount of vegetable stock, sauté until veggies are tender-crisp. Stir in kidney beans, garden peas and coriander, set aside.

FORTUNE BAG

: Cabbage core side up and make deep cuts around core so that cabbage leaves will peel off nicely during blanching.
Blanch head of cabbage in simmering water for 15 minutes or until soft. Gently flip it every 3 minutes during blanching. Remove 9 leaves and soak in cold water. Save blanching water for sauce later!
Blanch celery stalks in simmering water for 5 minutes or until soft. Peel some long ribbons of celery about 5mm width and soak in cold water.
Remove hard part of cabbage leaf, spread some potato starch at the middle and place 2 tbsp of stir-fried veggies on it.
Wrap into bun, tie it with celery ribbon and trim leaves if necessary. Repeat step 5 & 6 with the remainder.
Place fortune bags in a deep sauté pan and fill up ⅔ height of fortune bags with blanching water. Cover pan with lid and cook over medium heat for 5 minutes. Carefully remove fortune bags and place on a serving plate.

SAUCE

: Add blanching water, salt and pepper in a sauté pan, bring to a boil. Add potato starch slurry little by little and keep stirring until sauce had thickened.
Lastly, stir together sesame oil and goji berry, pour sauce over fortune bags. Serve warm!
Tried this (or any) of our featured recipes? Tag @radiantwholefood.organic on
Instagram
---