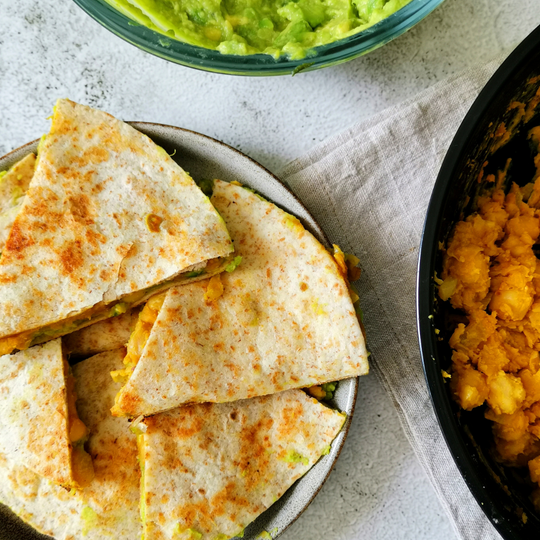 If you're looking for a vegan filling for quesadillas, try this! Packed with plant-based protein and fiber. This meal is healthy and great for both adults and kids!



INGREDIENTS:
[2 quesadillas, 8"]
4 pieces Tortilla (8")

GUACAMOLE:
300g Avocado (Ripe)
1½ tbsp Lemon juice
¾ tsp Maple syrup, or to taste
¾ tsp Salt, or to taste
A pinch of black pepper

CURRY CHICKPEAS:
3 cups Chickpeas (Cooked)
2 tbsp Olive oil
½ medium Sweet onion (Diced)
2 cloves Garlic (Minced)
2 tsp Curry powder
1 tbsp Plain flour
2 tsp Brown sugar
2 tsp Salt
½ cup + 1 tbsp Aquafaba (Chickpea liquid)
1 tbsp Nutritional yeast

INSTRUCTIONS:
1.

GUACAMOLE

: Slice avocados in half, remove pits and skin and place in a mixing bowl.
2. Add the remaining ingredients and stir together.
3. Mash avocado with a fork to desired consistency. Make it as chunky or smooth as you like. Set aside for later use.
4.

CURRY CHICKPEAS

: Heat a large skillet with olive oil over medium heat and sweat diced onion for about 3 minutes until soft and translucent. Add in minced garlic and continue to cook for about a minute until very fragrant.
5. Add in cooked chickpeas, curry powder and plain flour. Mix well and sauté for a minute.
6. Add in brown sugar, salt and aquafaba, sauté for 3 minutes.
7. Reduce heat to low, mash half portion of chickpeas with a fork and stir them evenly.
8. Sprinkle nutritional yeast and mix well. Remove skillet from heat. Set aside for later use.
QUESADILLAS

: Spread an even layer of guacamole followed by curry chickpeas onto a piece of tortilla. Place another piece of tortilla on top.
Lightly grease a large skillet with a bit of oil over medium-low heat. Once hot, place prepared quesadilla in skillet.
Press quesadilla down with a spatula or place a smaller skillet on top and cook for 2-3 minutes. Flip and cook for another 2 minutes, or until both sides are nicely browned and crispy.
Remove quesadilla from skillet and cut into 6 pieces. Repeat step with remaining tortillas and ingredients.
Tried this (or any) of our featured recipes? Tag @radiantwholefood.organic on
Instagram
---