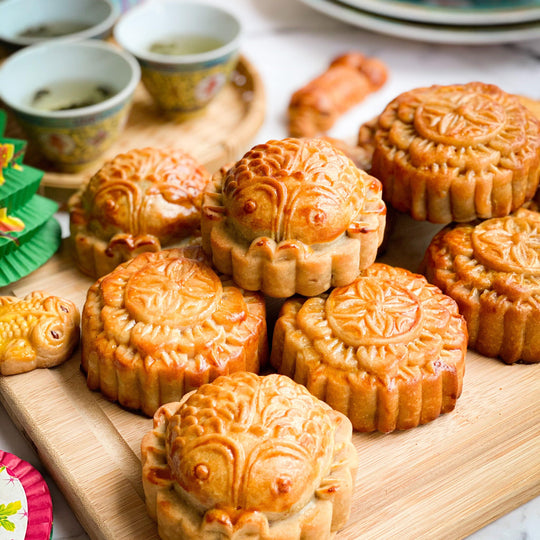 🥮 Traditional Cantonese Mooncakes! 🥮
Mid-Autumn Festival is just around the corner and everyone is either gifting or eating these sweet treats - but hold on! Mooncakes are usually high in sugar and fat, which makes it unhealthy to be consuming on a daily basis. 😲
Try this homemade Traditional Cantonese Mooncake recipe, a healthier option as compared to store-bought ones, without compromising the taste and texture~
Cantonese Mooncake (Lotus Seed)
Yields: 10-12
Golden Syrup:
800g Radiant Organic Unrefined Sugar
200g Radiant Organic Brown Sugar
2-3 slices organic lemon
Method:
Put all ingredients in a pot.
Bring to boil.
Turn to low heat and cook for 1 1/2 hours until golden brown.
*Keep the golden syrup for at least 3 months before utilising.
Mooncake pastry (low sugar):
150g Radiant Organic Unbleached Plain Flour
100g Radiant Organic Unbleached Cake / Pastry Flour
120g golden syrup
80g Radiant Organic Grape seed oil
1 tsp alkaline water
Mooncake Pastry: Mix all ingredients till well combined. Set aside for 30 minutes – 1 hour
Preparing the Salted Egg Yolk: (10-12)
Wash salted egg yolk and roll in sesame oil. Steam for 2 minutes. Cool it down before using.
Lotus Seed Paste Filling (Low Sugar)
600g lotus seed
1Tbsp alkaline water
100g Radiant Organic Brown Sugar
100g Radiant Organic Molasses Sugar
2 Tbsp Radiant Organic Coconut Palm Sugar
200g Radiant Organic Grape seed oil
Batter (Mixed)
50g cooking oil
30g wheat starch
Method:
Clean the lotus seeds thoroughly. Pour in alkaline water, soak for 10-15 minutes. Rinse for few times. Put the lotus seed in boiled water. Cover and soak for 15-20 minutes.
Remove lotus seed from water and rub to remove the skin.
Cook the lotus seed in a pot of water until soften. Filter and grind the seeds into paste.
Stir fry with 2 Tbsp of oil and sugar in a pot until sugar turns into light brown.
Add lotus seeds paste and add remaining sugar, stir-fry over high heat until boiling. Gradually add in remaining cooking oil, in few portions. Stir-fry until thick.
Add maltose and batter, turn to medium-low heat, stir-fry the paste until it is not stick to the pot.
Filling:
900g-1kg homemade lotus seed paste
50g toasted melon seeds
Filling: (*can either use lotus seed paste or red bean paste) mix seed paste with toasted melon seeds. Divide paste into 10-12 portions, wrap up one salted egg yolk to form about 100g each. Shape into balls.
Divide skin dough into 55g-60g each (depends on the size of your mould), shape into a ball, flatten it and wrap in a portion of filling.
Put mooncake into a floured mould, press well and then knock 4 sides of the mould and gently remove the mooncake from the mould. Arrange them onto a baking tray and spray with water before putting into the oven.
Bake in a preheated oven at 180c for 15 minutes. Remove and leave aside to cool for 10 minutes.
Brush the top with beaten egg yolk. Bake again for 10 minutes until golden brown.
Note: For a better result, leave mooncakes aside for 2-3 days for the pastry skin to "breathe" and will become softer.
---