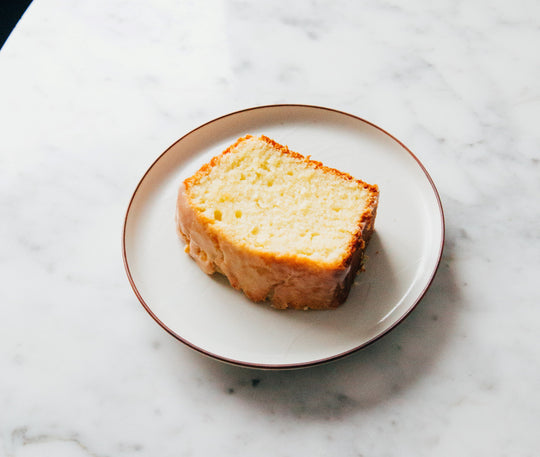 Wholesome cake recipes for when you are craving some scrumptious dessert!
OLIVE  OIL  CAKE
Ingredients :
| | | |
| --- | --- | --- |
| Set A | Set B | Set C |
| 110gms Radiant Brown sugar                                  | 113gms Radiant Unbleached plain flour | 105gms egg whites |
| 25gms Lakewood Pure Lemon juice                        | 160gms Radiant Extra Virgin Olive oil | 2gms fine Celtic Sea Salt |
| 4gms Vanilla                                                            |   | 57gms Radiant Brown sugar |
| 37.5gms egg yolk |   |   |
| 3gms Lemon Zest                                                      |   |   |
Method :
Mix ingredients in SET A all together
Add in ingredients in SET B into SET A
Whip egg whites in SET C till light and fluffy and gradually add in the Radiant Brown sugar and salt.
When ready, add into SET A to mix
Bake in oven at 175°C for 25 minutes. Use skewer to test.
 HEARTY  FLAXSEED ORANGE POUND CAKE
Ingredients

Method

240gms Radiant unbleached Bread flour

1 tbsp Radiant Baking soda

80gms Radiant Brown sugar

100cc Lakewood Orange juice

1/4 tsp Celtic fine ground sea salt

90cc Clearspring Extra Virgin organic olive oil

2 tbsp Radiant Apple Cider vinegar

4 tbsp Radiant Organic Flaxseed

200cc water

1 tbsp Radiant Lecithin powder

 

·         Combined and sieve bread flour and baking soda, then set aside.

·         Boil flaxseed in water for  2-3 minutes then turn off heat (will thicken), add salt, brown sugar and soya lecithin (dissolve in warm water for easier mixing with batter later on) Stir well, let stand

·         When sugar and lecithin dissolve completely, slowly add olive oil and orange juice, stirring to mix well

·         Add all wet ingredients (except vinegar) to bread flour and baking soda, stir moderately to combine. Preheat oven to 190°C

·         Finally add vinegar to batter, stirring slowly to combine

·         Bake batter in 190°C oven for about 30 minutes. Just after 10 minutes have passed, take out batter to cut a line along the center, letting the cake bulge up a bit and also to have a 'cool' look. When baking is complete, enjoy this succulent dish warm or chilled.
BUCKWHEAT  CORN  MUFFINS
Ingredients

Methods

1 cup Radiant Buckwheat flour

½ cup Radiant Maize flour

2 ½ teaspoon Radiant Baking Powder

½ cup Butter

1 tablespoon Radiant Apple Cider

1 tablespoon Radiant Organic Honey

4 eggs

1 ½ cup Living Planet Diary Low Fat Milk

·         Preheat Oven at 400°C

·         Mix buckwheat flour, maize flour, baking powder, honey and apple cider juice together.

·         Combine eggs milk and butter and stir to make into a light batter

·         Fill into muffins tins about 2/3 full and bake into 15 –20 minutes

 
---