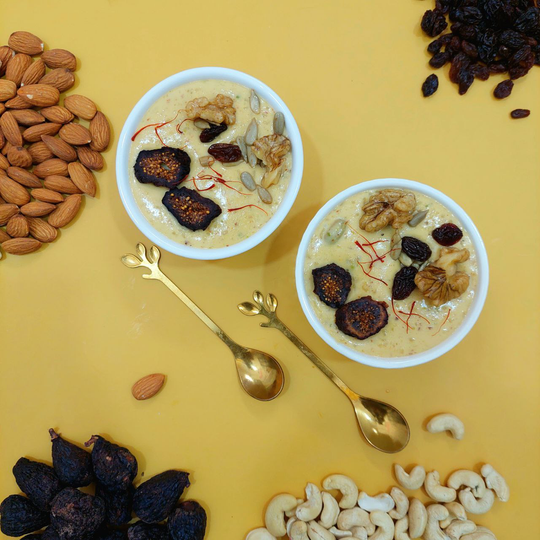 A special and famous dessert recipe curated for all specially for raya. Try this recipe and impress your loved ones with an exquisite taste.  
Special thanks to ameerah_simplecooking for sharing this wonderful recipe and beautiful pictures!
Bubur Fig and Nuts Payasam by https://www.instagram.com/ameerah_simplecooking/
INGREDIENTS:
Milk
Evaporated milk
Radiant Organic Black Mission Fig
Radiant Natural Almond
Radiant Natural Cashews
Radiant Organic Sunflower Kernel
Radiant Organic Raisin
Basmathi rice
Evaporated milk
Saffron
Clarified butter
Cardamom powder
INSTRUCTIONS
:
Soak dried figs, basmathi rice, and nuts in hot water overnight.
Blend the strained nuts with evaporated milk into a coarse mixture and set aside.
Boil milk then add in the coarse nuts mixture and mix well.
Add some saffron strands and cook for some time.
Add condensed milk and cook till well combined and reached a creamy taste.
Add cardamom powder.
Fry some raisins and seeds, walnuts in butter and top it on the payasam and enjoy.
---