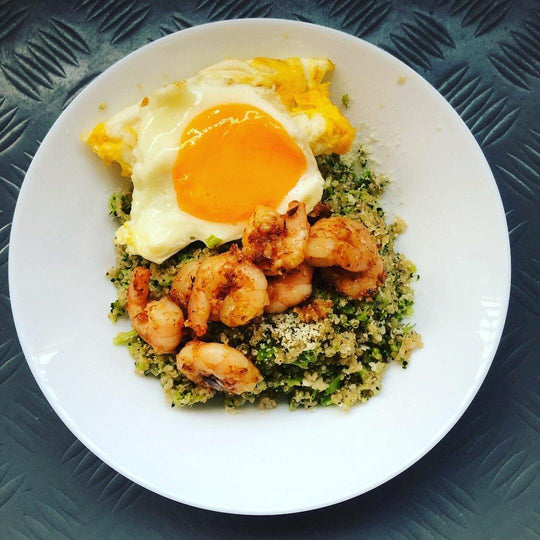 Do you know being healthy and fit doesn't mean you have to crave yourself ! You can always have a complete and proper meal by cooking it yourself. From changing your main ingredient white rice to quinoa. Quinoa provide twice of the protein and fiber compare to same amount of white rice. Not only that , it fill you up faster with small amounts. It also is an alternative for diabetes people ,quinoa can be particularly beneficial for people with diabetes, since fiber and protein are considered important for keeping blood sugar under control.
Full Nutrients in a bowl - Broccoli quinoa bowl

INGREDIENTS
A pinch of Celtic sea salt

A pinch of black Pepper/ red chilli flakes

1/2 cup of diced red onion one large clove of garlic

½ cup white/ trio quinoa, rinsed

2 small or 1 large head of broccoli, stalk end trimmed

1 egg

3 tablespoons of Lakewood lemon juice

Fresh/frozen prawn (your preference)

1tbsp of flaxseed 
INSTRUCTIONS
Pre-cook ½ cup of quinoa
Fried one sunny side up egg
Pan grill the prawn until medium cooked
Heat the pan with grape seed oil, sauté garlic and onion until fragrance.
Place the cooked quinoa, prawn and cut broccoli to stir fry together
Add in flavouring sea salt, chilli flakes, black peppers.
You're done! Serve on a plate and place the egg on top, sprinkle with flaxseed.
---