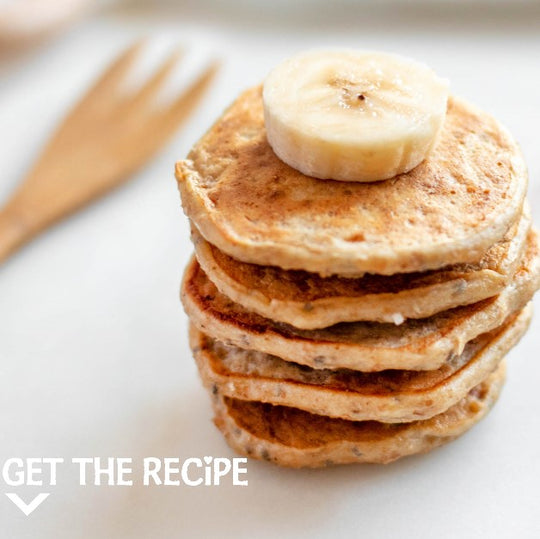 Enjoy a nutritious breakfast with these Baby Pancakes made with Only Organic Banana Porridge !

Ideal for toddlers 1yo+
Potential allergens: This recipe contains gluten.
 
YOU WILL NEED
1/4 cup wholemeal flour
1/2 cup Only Organic Banana Porridge
1/2 cup milk of your choice
1/4 cup mashed banana
2 tbsp chia seeds
1/2 apple juice or water
1 tbsp coconut oil (cooking)
METHOD
Firstly, for an egg replacement put the chia seeds followed by 4 tbsp of water in a small bowl.
Stir to make sure there are no lumps of chia seeds and sit for 5-10 minutes.
In a bowl combine the dry ingredients and stir to combine.
Use another bowl and fork mash the banana, add the milk, apple juice or water and stir the liquids together.
Add the wet to the dry ingredients and stir to avoid lumps. Add more water if needed.
Heat a pan on low-medium heat, add oil and 1 tbsp of pancake mixture to the pan.
Leave for around 3 minutes or until the edges stand to crisp. Flip the pancakes over and cook for another 2 minutes.
Repeat until all baby pancakes are complete and ready to eat!
Serve with a few slices of banana and optional - drizzle of our Vanilla Bean Custard !
Follow us!
https://www.facebook.com/onlyorganicmalaysia 
---