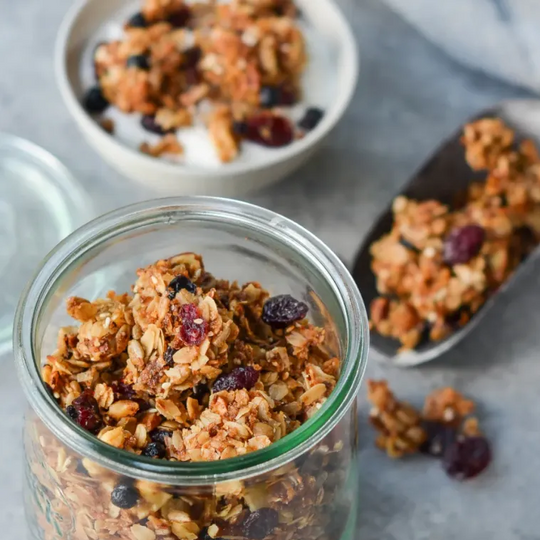 Snack on Healthy Bites with a beauty twist!
Prep Time: 15 minutes
Bake Time: 22 - 27 minutes
Temperature: 160 C
Serving Base: 4inch baking pan

Ingredients List
250g Radiant Organic Berries Breakfast
200g Berries Mix of choice
¼ cup Radiant Organic Maple Syrup
¼ cup Clearspring Organic Peanut Butter (Smooth)
1 ½ cup Radiant Organic Extra Virgin Coconut Oil
¼ cup Radiant Organic Acacia Honey
¼ cup Radiant Organic Flaxseed
¼ cup Salt (Optional)
 
Steps
Preheat oven to 160°C. Line an 4-inch square baking pan with parchment paper. Set aside for later.
Add all dry ingredients to a large bowl: oats, dried berries mix, flaxseed, and salt (if using). Stir until well mixed.
Add all wet ingredients to a medium bowl: maple syrup, coconut oil, peanut butter and acacia honey. Whisk until well incorporated.
Pour wet ingredients over dry ingredients. Using a rubber spatula, stir and fold until very well mixed.
Pour the mixture into the prepared baking pan. Using the spatula, nudge the mixture until loosely and evenly spread out. Then, use the spatula to press the mixture firmly down into an even, very tightly-packed layer.
Bake for 22-27 minutes.
Place baking pan onto a cooling rack to cool for about 30 minutes, or until completely firm. After, lift bars and parchment paper onto the cooling rack to finish cooling for 1-2 hours. Slice and enjoy!
---